It's a simple, yet powerful unit.
Dana Healy
Executive Director
Danvers Community Access Television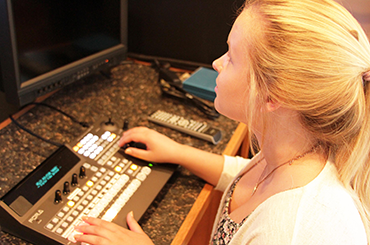 When Massachusetts' Danvers Community Access Television (DCAT) recently upgraded its studio facility to high definition, the station did not take the task of ordering new equipment lightly. After extensive research, trade show attendance, and taking suggestions from peers, Dana Healy, the station's executive director, found herself completely sold on FOR-A's HVS-100 portable video switcher. DCAT began using the switcher in its new studio last month.
"I was adamant in wanting a classic studio switcher that could stand the test of time, and I became enthralled with the HVS-100," said Healy. "It's a simple, yet powerful unit. I'm confident that the switcher can handle the slews of middle-school aged children as well as beginner producers that will be using it here for years to come."
Other productions that Custom Media Solutions has used FOR-A's switchers for include: the Delta Chairman's Club Banquet at the Fox Theater in Atlanta, Christian music artist Chris Tomlin's tour, a conference at the University of Tennessee, Passion City Church events, DVD shoots for artists Montel Jordan and Hillsong UNITED, events at the Verizon Wireless Amphitheater, productions for the Atlanta Symphony Orchestra and North Point Community Church's student camps.
DCAT is a 3,000-square foot non-profit television station overseen by Healy and three other employers. The station provides training and offers its facility for local programming production.
"In learning how to operate the unit, there has been a learning curve since the switcher offers so many options, but we are very happy with the workflow," Healy explained. "Our FOR-A sales representative, Jay Shinn, was very helpful and demonstrated the equipment to us in an easy to understand way."
Healy added, "One of the features we've been taking advantage of often is the unit's green screen options, which are very powerful and create a nice, clean key."