Message from Top Management
Progressing hand-in-hand with customers based on relationships of mutual prosperity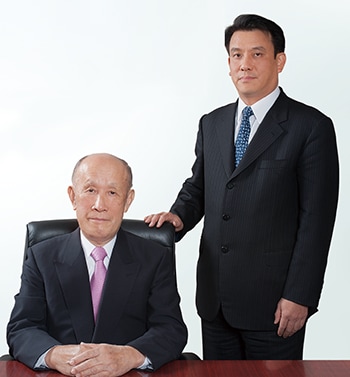 Keizo Kiyohara
Chairman and Representative Director
Katsuaki Kiyohara
President and Representative Director
Founded in 1971 by Mr. Keizo Kiyohara, FOR-A is a worldwide, industry-leading manufacturer, offering a wide range of broadcast, video and audio production products and solutions for a variety of industries. Our first product was a video timer and since those early days our customers have come to rely on the FOR-A brand for quality, reliability, and outstanding customer support.
For over 45 years, we continue to offer future-ready, cost effective, advanced technology solutions including HD, 4K/UHD, 8K and 12G production processing solutions, HDR/WCG and IP-based products. FOR-A delivers the widest range of products including: Color Correctors, Video Switchers, Routing Switchers, HD/4K Keyers, Frame Rate Converters, Multi-Channel Signal Processors, Multi Viewers, Video Servers, 4K/HD Test Signal Generators, IP Encoders, Decoders, Downstream Keyers, File-Based Products, Character Generators, High Speed and Super Low Light Cameras and much more.
With two Emmy® Awards for Technology & Engineering, FOR-A's extraordinary development and engineering team delivers outstanding video and audio production products that are used in broadcast production, content creation, distribution, government, medical, houses of worship, live events, and more.
We are very proud to offer interface capabilities to build systems and solutions designed with your applications and projects in mind. We pride ourselves on our strong relationships with you, our customers/friends and are there every step of the way to help you succeed in producing your productions without any concern.
We invite you to look through our website and if we can be of assistance, please don't hesitate to contact us.
Thank you!