Optional cards
Able to add just the input and output formats you need, in just the amount needed. There are six expansion slots so that other inputs and outputs can be installed, such as analog component, analog composite, HDMI and RGB in addition to HD/SD-SDI.
Software
Optional software introduces 3G-SDI and 4K format support or adds a switcher control interface.
Control panels
Up to 3 control panels can be connected simultaneously.
Dedicated control panels for the HVS-2000
These newly developed control panel offers ultimate usability.
RGB Color Button and OLED displays
7-inch touch screen
External display connections for clearer visual operation
Customizable user buttons and bus buttons
Other control panels
ARCNET connection is no charge for interface to HVS-390HS series control panels
AUX remote control panels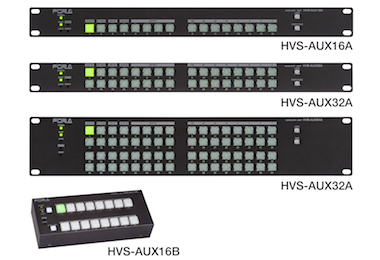 HVS-AUX16A/AUX16B/AUX32A/AUX64A : AUX Remote Control Panel
Four types of AUX remote control panels available. Allows remote aux control or even a shotbox for user button control or macro recall. Up to 12* control panels can be connected simultaneously. *Planned for future support.
HVS-AUX16A (16 buttons)
HVS-AUX16B (16 buttons, tabletop model)
HVS-AUX32A (32 buttons)
HVS-AUX64A (64 buttons)
Others

HVS-TALOC20/32
HVS-TALR20/32 : Tally Interface Unit
Open collector-type HVS-TALOC20/32 or relay-type HVS-TALR20/32 can be connected. They are both half-rack size, and up to 4 units can be connected to the HVS-2000.
HVS-TALOC20/32: open collector system with 20/32 terminals
HVS-TALR20/32: relay system with 20/32 terminals