Cathedral of Faith Upgrades to Full HD Broadcast Capability with FOR-A Video Switcher
January 28, 2013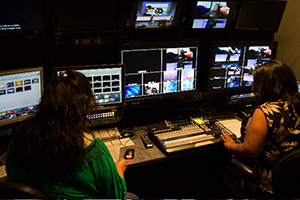 Fort Lee, N.J., January 28, 2013 - FOR-A Corporation of America, a leading manufacturer of video and audio systems for the broadcast and professional video industries, announces that San Jose, California-based Cathedral of Faith has implemented a FOR-A HVS-350HS video switcher as part of their HD overhaul. The church's system was recently converted to HD in two phases and integrated by the Texas-based company Spectaveris.

Besides their main location in San Jose, Cathedral of Faith has seven remote locations around the San Francisco Bay area. Each week, the main church's Saturday service is recorded, duplicated onto hard drives, and sent by car to each remote church. The sermon is then shown at each remote campus church using ProPresenter technology. Cathedral of Faith also broadcasts its services online at http://live.cathedraloffaith.org/ and has live HD feeds to the church's outdoor pavilion every Sunday morning. All church services, which include five on the weekend, one midweek service, and a Spanish service on Sunday, are recorded. DVDs of the services are also available to the congregation for purchase.

Broadcasting since 1965, Cathedral of Faith first worked with Spectaveris to upgrade their system to standard definition six years ago. When called upon this year to convert the church to HD production, Spectaveris discovered some initial design challenges. First, they had to work around the church's weekly broadcast schedule. The integrator also needed to consider that the vast majority of the church's production staff were volunteers, so keeping a user-friendly workflow was crucial. There was also the usual challenge of delivering high-quality technology while keeping within the church's budget.

Spectaveris began equipment selection for the church in April at the NAB 2012 show. Company representatives met with several vendors to choose the switcher that best fit Cathedral of Faith's needs. After considerable competitive evaluation, Spectaveris found that FOR-A's HVS-350HS solution met their criteria better than any other switcher on the market. Because they were able to implement the HVS-350HS with two control panels and two multiviewers, one FOR-A switcher replaced the two switchers that the church had been using.

"FOR-A's HVS-350HS solution is the only switcher out there that offers such a high-quality, cost-effective product with flexible control panels and remote capability control," said Dean Stone, President, Spectaveris. "Our installations frequently include FOR-A switchers. We continually find that our customers are extremely pleased with the performance of their switcher, and are confident that FOR-A will keep bringing high-quality, reliable solutions to the market."

The FOR-A switcher was installed this past September during the first phase of the church's upgrade. The second phase, which involved integrating and testing new cameras and reducing rack size, was executed a few months later. Other equipment installed includes: a Sony OLED picture monitor, Mutec video and digital audio sync master clock generator and a Dell UltraSharp LCD monitor. The project was completed mid-November, and Cathedral of Faith now has full HD broadcast capability. To view a video regarding the church's upgrade with Spectaveris, please visit the following link: http://vimeo.com/57464828
About FOR-A
FOR-A is a major manufacturer and distributor of video and audio systems to the broadcast, postproduction and professional video markets. For more information about FOR-A's product line, call 201-944-1120 or visit our web site at www.for-a.com