Provides HDR and Wide Color Gamut support. Offers exceptional conversion format delivery, including 12G, 4K(UHD), 1080p and HD/SD.
Each of the FA-9600 processor's two HD/SD inputs includes a frame synchronizer. Because the signal processor features 12G-SDI terminals, optional software opens the door to 4K(UHD) production. Adding an optional expansion card provides four more channels of 3G-SDI input/output or six channels of 12G-SDI distributed output.*1
The FA-9600 is much more than a basic frame synchronizer. It simplies all types of video conversion. A newly developed color processing circuit supports the latest gamut and dynamic range specications, and an optional converter circuit is available for up/down/cross conversion. Offering a wide range of audio processing, core features of remapping and gain adjustment, the FA-9600 can be expanded with optional cards*1 that make it an ideal standalone solution at transmission centers, in mobile production trucks, production studios, news stations, and other nonlinear editing and playout production environments.

*1 For details, see the expansion cards in "Options" in the Datasheet.
FA-9600 Introduction
Supports conversion to versatile formats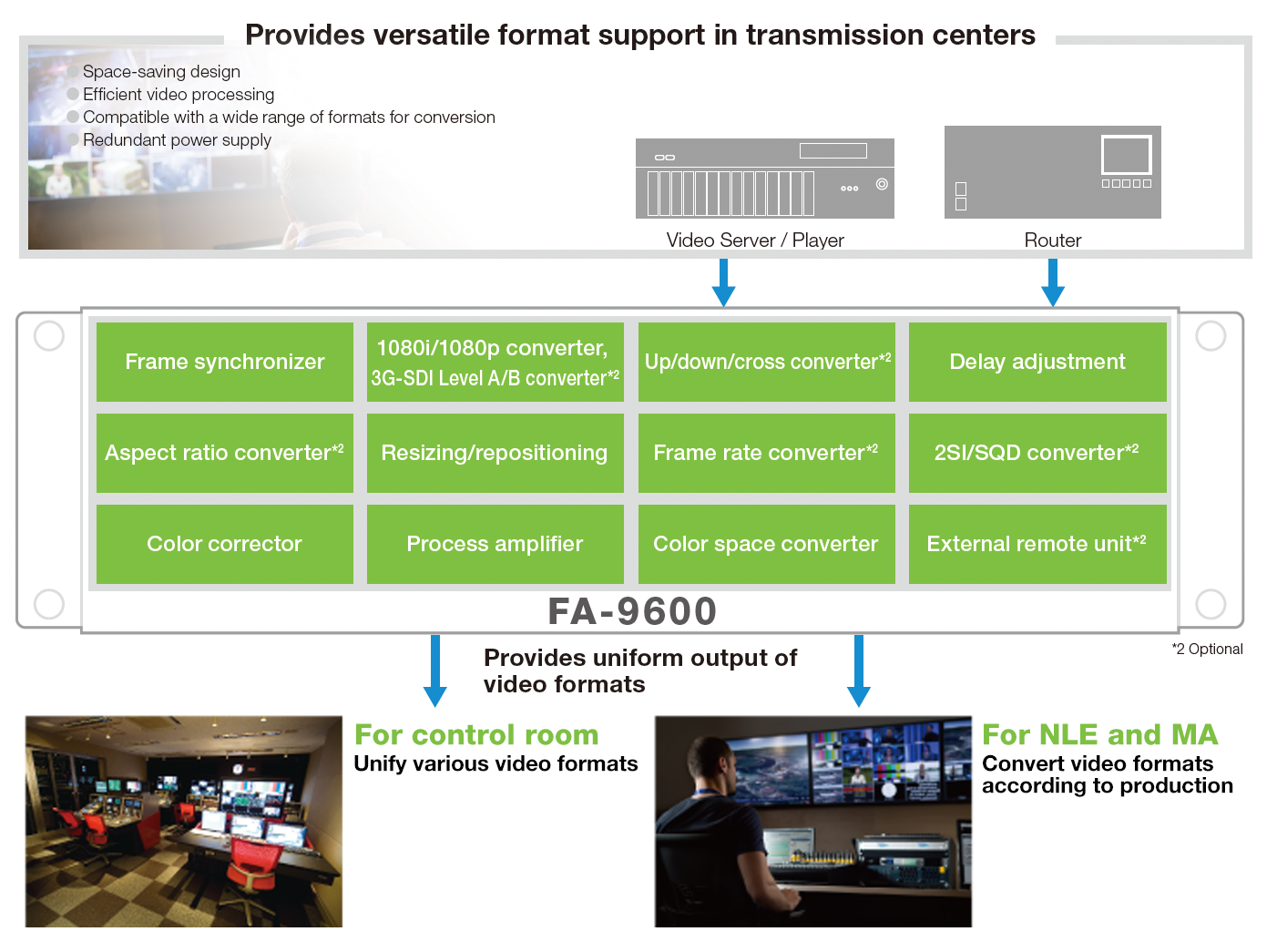 Advantages in mixed HDR/SDR environments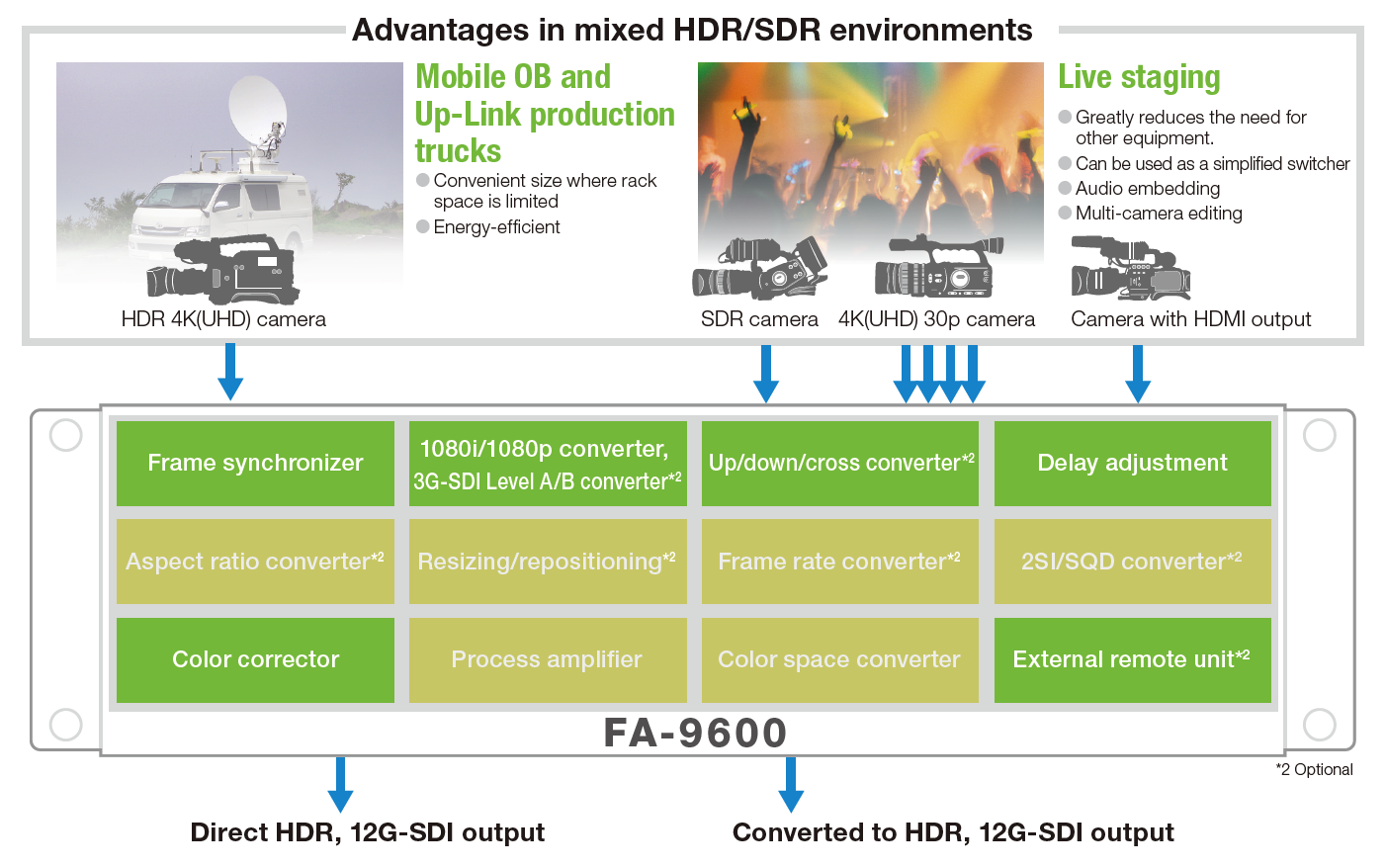 New color processing circuit provides strong support in HD/4K(UHD) production.
This is useful not only when converting to unied specications before input to a switcher or editing system, but also at output - before HDR and SDR simulcasts.

Supports and converts between the broad ITU-R BT.2020 gamut for 4K/8K and the conventional ITU-R BT.709 gamut in HD.
Compensates for differences among external devices using EOTF/OETF corresponding to various HDR or SDR curves.
EOTF/OETF log curves and gamut can be registered from a PC.
Also compatible with S-Log3, Canon Log2, Canon Log3 and other camera log curves.
Dynamic range conversion compatible with HLG, PQ, SDR, and other log curves.
Compatible with ITU-R BT.2100-compliant dynamic range conversion.

< Support SDR/HDR log curves >
- SDR BT.709 - PQ BT.2020 - PQ P3D65 - HLG BT.2100 - Canon Log 2 - Canon Log 3
- Sony S-log 3 S-Gumut3/S-Gumut3 Cine - Sony S-log 3 BT.2020


Using FA-96AHDR Advanced Function Software option, processor is conversion compatible with SR Live for HDR or OOTF Adjustment function. Also, conversion using 3D-LUT is possible by changing the mode.
SR Live for HDR represents the workow which can provide HDR production proposed by Sony.
Various features
Standard features
Video
3G/HD/SD-SDI 2 inputs and 2 outputs with distribution output by each output, HDMI 1 input and 1 output.
Dual channel of Frame Sync., Proc. Amp., Colorimetry Converter, Color Corrector, Frame Delay and Clip function.
Dual channel of 1D-LUT conversion and Log curve conversion (EOTF/OETF) for HDR.
Audio
Dual channel of embedded audio (16 channels, HDMI is up to 8 channels);
AES/EBU I/O selectable for 4 inputs/2 inputs and 2 outputs/4 outputs (4 channels of stereo,unbalanced);
audio multiplex and demultiplex function.
Gain control, SRC, Down mix, Re-map, Mute, and Audio delay functions.
Other features
Optional remote control unit connection.
Can be controlled via Ember+.
Optional features
Video
With the FA-964K option, use two internal paths for 4K and HD. Supports 12G-SDI and 6G-SDI I/Os.
With the FA-96UDC option, use up/down/cross/aspect conversion, interlace/progressive conversion,
2SI/SQD conversion, 3G-SDI Level A/B conversion.
Quad 3G-SDI I/O card or 12G-SDI distribution output card, or SFP/SFP+ modular card can be installed.
For HDR function, 3D-LUT conversion 1 and SR Live for HDR (OOTF) function max.2 can be added.
Audio
AES/EBU I/O card, analog audio I/O card, MADI interface card, or Dante interface card can be added.
Other optional features
Redundant power supply, GPI I/O, and LTC I/O can be added.
5-year warranty
The generous extended warranty includes:
Free product firmware updates for the life of the product, whether in or out of the warranty period.
Coverage transfer to the new owner at no cost should you sell your product
Parts and labor with any defect under normal operating conditions
Free technical support via phone or email for the life of the product, whether in or out of the warranty period.
Terms of the extended warranty apply to the FA-9600 sold by FOR-A and its subsidiary companies since August 1, 2019.