Event
FOR-A IP Solutions Take Center Stage at 2023 NAB Show New York
IP-based Live Production Ecosystem and Aveco Automation Integration Headline Company's Participation at Regional Convention

FA-1616 multi-channel processor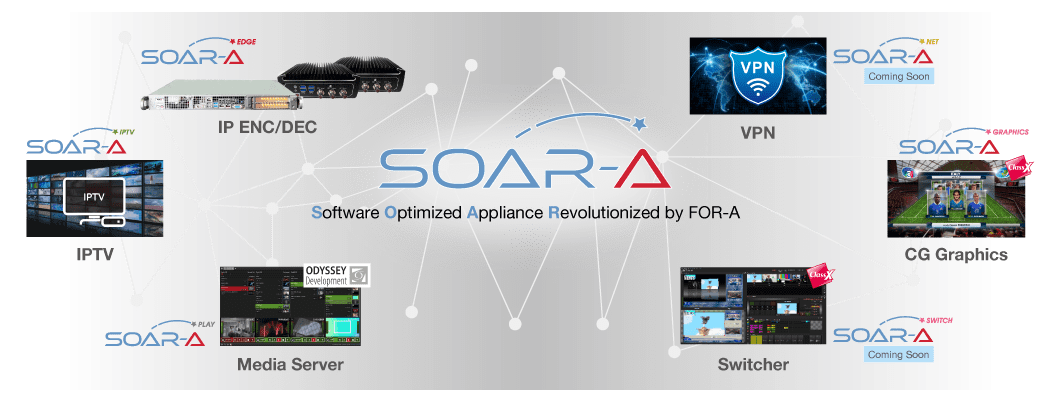 New York, October 4, 2023 –  FOR-A Corporation of America will showcase its software-defined IP workflow and support for SMPTE ST 2110 standards during the NAB New York show, running from October 24-26 at the Javits Center. The company's live production ecosystem works with all flavors of IP and is available for immediate delivery. FOR-A will exhibit in booth #822.
"A software-defined architecture provides a cost-effective path to media-over-IP," said Satoshi Kanemura, President of FOR-A Corporation of America. "Adding new capability through software means the customer can configure the system in a way that best meets their needs, without worrying about hardware costs. Hybrid production, using a variety of signal formats, is very easy to accomplish. That emphasis on flexibility is what powers all FOR-A technology."
The SMPTE ST 2110 standards support multicast IP streaming of uncompressed video over local area networks for a more scalable and vendor-agnostic solution. FOR-A's IP-enabled hardware offerings with an ST 2110 interface include the FA-1616 multi-channel processor and MV-1640IP IP Multi Viewer. Software solutions supporting the standard at NAB New York will be the SOAR-A Edge IP transport appliance; SOAR-A IPTV, an IP distribution service; SOAR-A Graphics, a CG and graphics engine; and SOAR-A Play, a software-based media server.
FOR-A's integration with Aveco automation solutions will also be a big part of the NAB New York booth. FOR-A HVS Series production switchers, Insight video servers and ClassX graphics systems are tightly integrated with Aveco ASTRA Studio production automation and GEMINI media management systems in a powerful package.
Four FA-1616 were recently delivered to a large ST 2110 facility as part of its extensive broadcast infrastructure. With SMPTE ST 2110 and ST 2022 interfaces, the FA-1616 multi-channel processor is an ideal gateway between SDI and IP as well as IP to IP and SDI to SDI. The FA-1616's frame synchronizer also supports 4K/12G-SDI/High Dynamic Range/Wide Color Gamut and simultaneous processing of 4K UHD and HD video by using four channels together as a 4K processor.
The MV-1640IP IP Multi Viewer can input 16 streams of SMPTE ST 2110-10/20/30/40 HD video via one port – and by using two SFP+ connectors, it can support the redundant environment of SMPTE ST 2022-7. The MV-1640IP uses NMOS for stream switching. Designed for IP or hybrid production workflows, the 1RU MV-1640IP supports up to 32 inputs (16 IP and 16 SDI) and five monitor outputs. With an SFP+ port, the MV-1640IP is compatible with 10GbE and 25GbE environments.
FOR-A's software-based live production platform, SOAR-A, boasts an expandable IP-based architecture and supports the conversion and delivery of SD, HD, 4K and NDI® to ST 2110 signals. It is compatible with WebRTC and utilizes RIST (Reliable Internet Streaming Transport). The entire SOAR-A workflow enables highly secure REMI production and gateway-free streaming. The SOAR-A system serves content creators looking for a workflow with low latency, software-based services. All modules within the SOAR-A line are SMPTE ST 2110 capable.
"While we've built our reputation on rock-solid SDI as well as hybrid solutions, most of the FOR-A ecosystem also supports IP, either as standard or optionally, including ST 2110 standard capability," added Kanemura. "We're eager to discuss in depth the flexibility and scalability this provides our entire live production platform during the NAB New York show."
About FOR-A
FOR-A, a worldwide, industry-leading manufacturer, offers a wide range of Broadcast and Production products with a focus on cutting-edge technologies including: HD, 4K and IP Products.
FOR-A continues to offer future-ready, cost effective, advanced technology solutions. Products include: Video Switchers, Routing Switchers, Multi Viewers, IP Encoders/Decoders, Multi-Channel Signal Processors, 8K/4K/HD Test Signal Generators, Color Correctors, Frame Synchronizers, File-Based Products, Character Generators, Video Servers and much more.
For a full range of HD and 4K Production and Processing solutions, as well as IP-Based Products, visit our web site at www.for-a.com
Press and Marketing Contact:
press@for-a.com
Any Questions? Please feel free to contact us.