*This information is as of September, 2022. All specification and contents are subject to change without prior notice.
MFR-3100EX can serve as a routing switcher, video switcher*1, multi-viewer*1, and downstream keyer*1 in a single 4 RU enclosure. Other features include: PTZ camera control*1, NDI®/NDI®|HX I/O*1*2, and RTMP/SRT video streaming*1. This highly versatile unit is also an ideal choice for compact system building.
*1 Optional, for details, contact your FOR-A dealer. *2 NDI® and NDI®|HX are a registered trademark of Vizrt Group.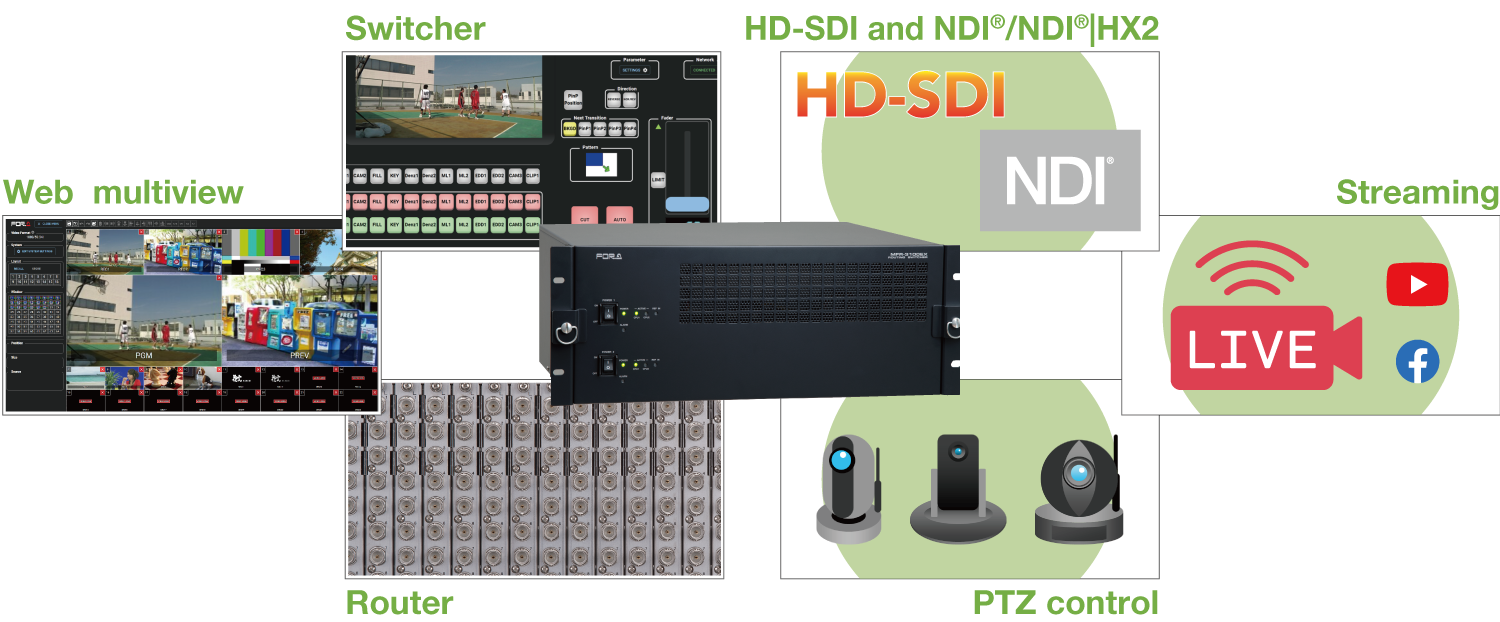 Typical workflow for house of worship, live event and corporate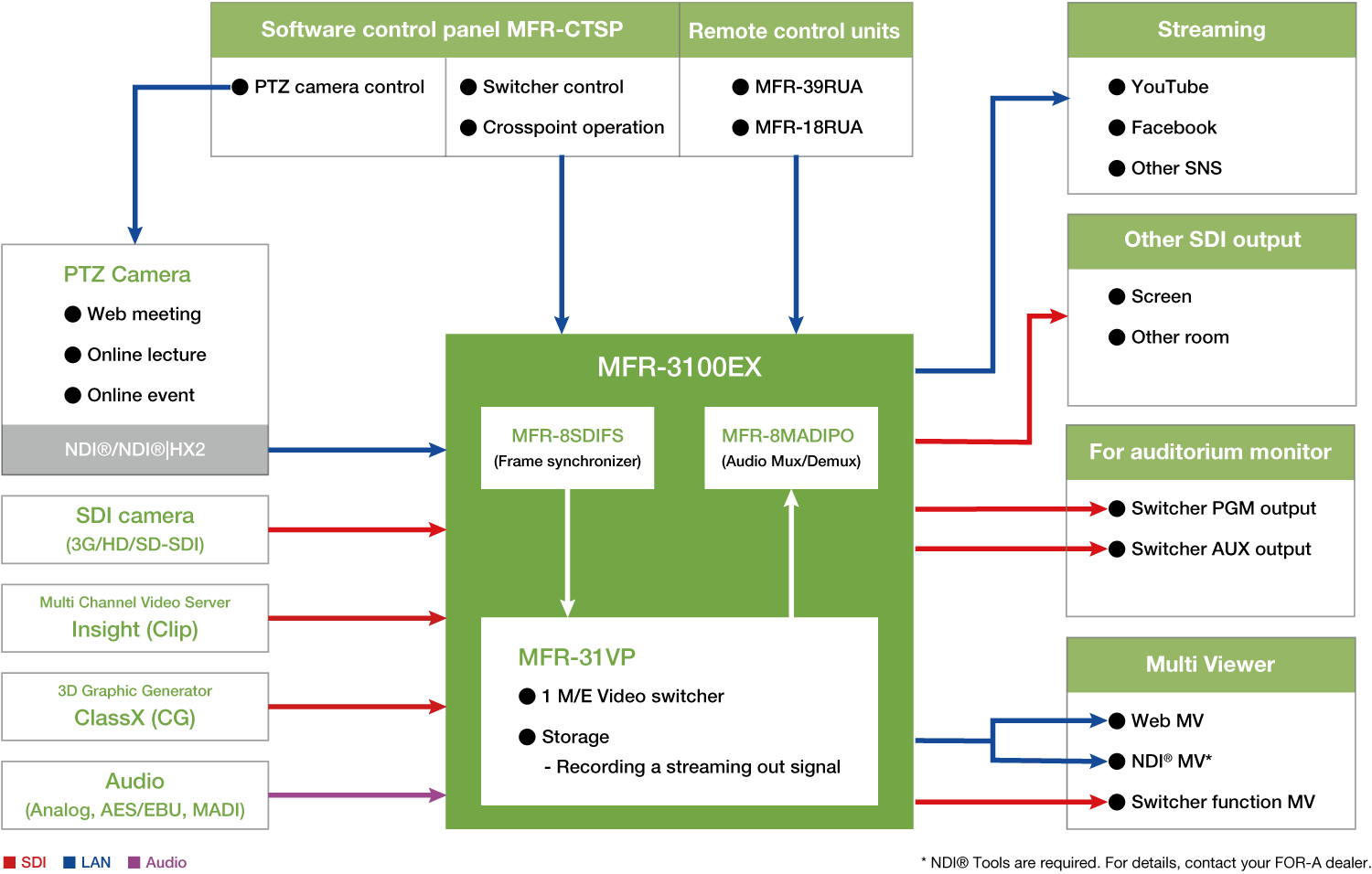 All-in-one production center features
Beyond the essential roles it fulfills in any production environment, this comprehensive unit offers 4 additional features with the addition of an MFR-31VP video processing card. With the card, the MFR-3100EX provides video switcher function, NDI®/NDI®|HX I/O*1, video streaming*1, and SSD storage.
*1 In addition to MFR-31VP, MFR-31VPS software option also required.
Video switcher function
Video switcher function (MFR-31VP)
Add an MFR-31VP card to expand the unit with 1 M/E and 20 inputs/13 outputs video switcher function. Take advantage of NDI®/NDI®|HX I/O and 4 keyers for P-in-P or downstream keying. Frame synchronization, 12G-SDI, audio muxing/demuxing, and other expansion are supported with other options.

Video switcher function specification


Software control panel MFR-CTSP
With the MFR-CTSP software control panel, all video switcher functions can be controlled with touch panel operations.
NDI®
NDI®and NDI®|HX Supported* (MFR-31VP)
Send or receive video and audio, control signals, and tally control over IP. With NewTek NDI® Tools installed, MFR-3100EX supports meeting collaboration software such as Zoom, Microsoft Teams or Google Meet.
* In addition to MFR-31VP, MFR-31VPS software option also required.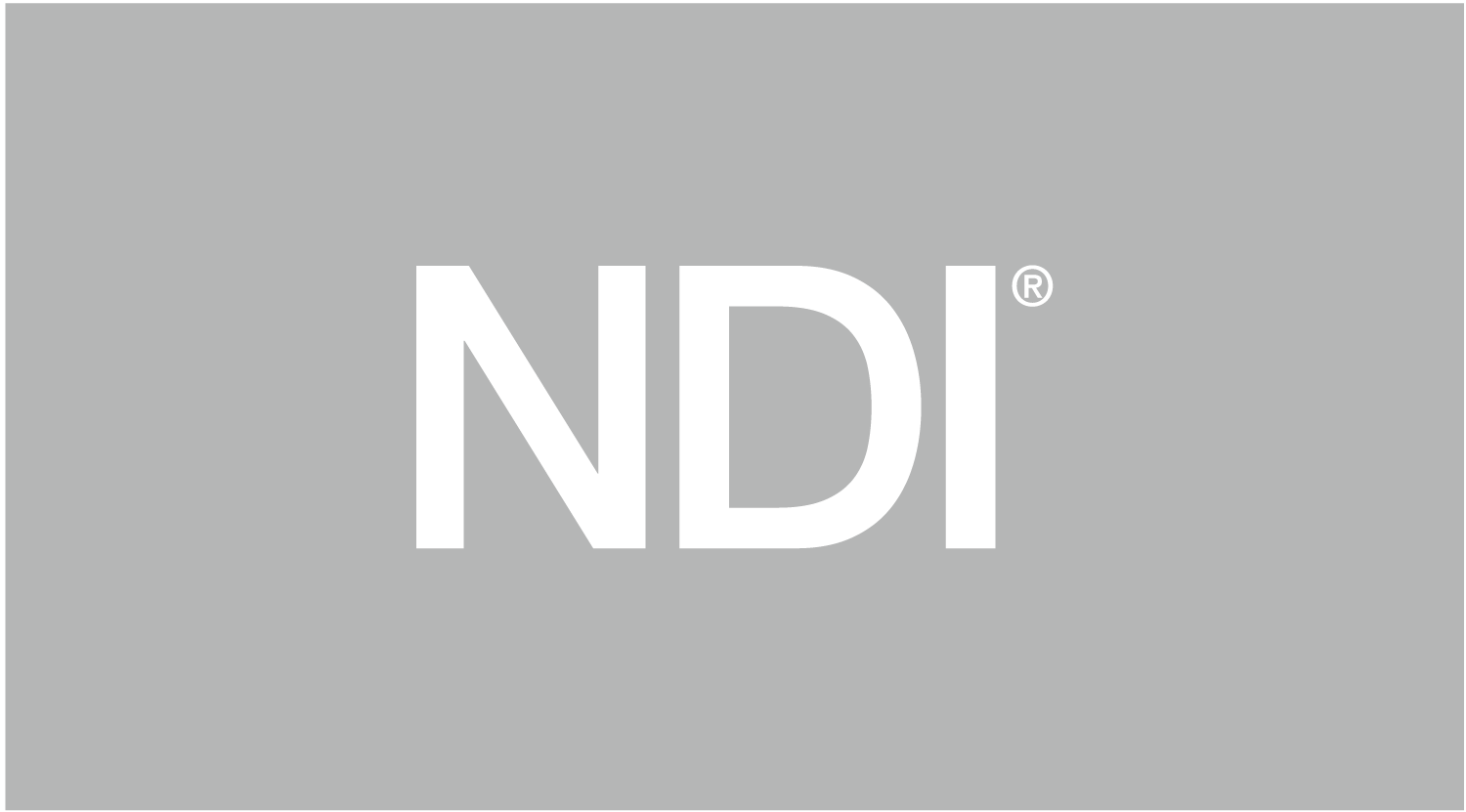 Video streaming
Video streaming function* (MFR-31VP)
Provides RTMP and SRT support. Upload video directly to YouTube, Facebook, or other streaming services. YouTube streaming can be checked by scanning a QR code with a smartphone.
* In addition to MFR-31VP, MFR-31VPS software option also required.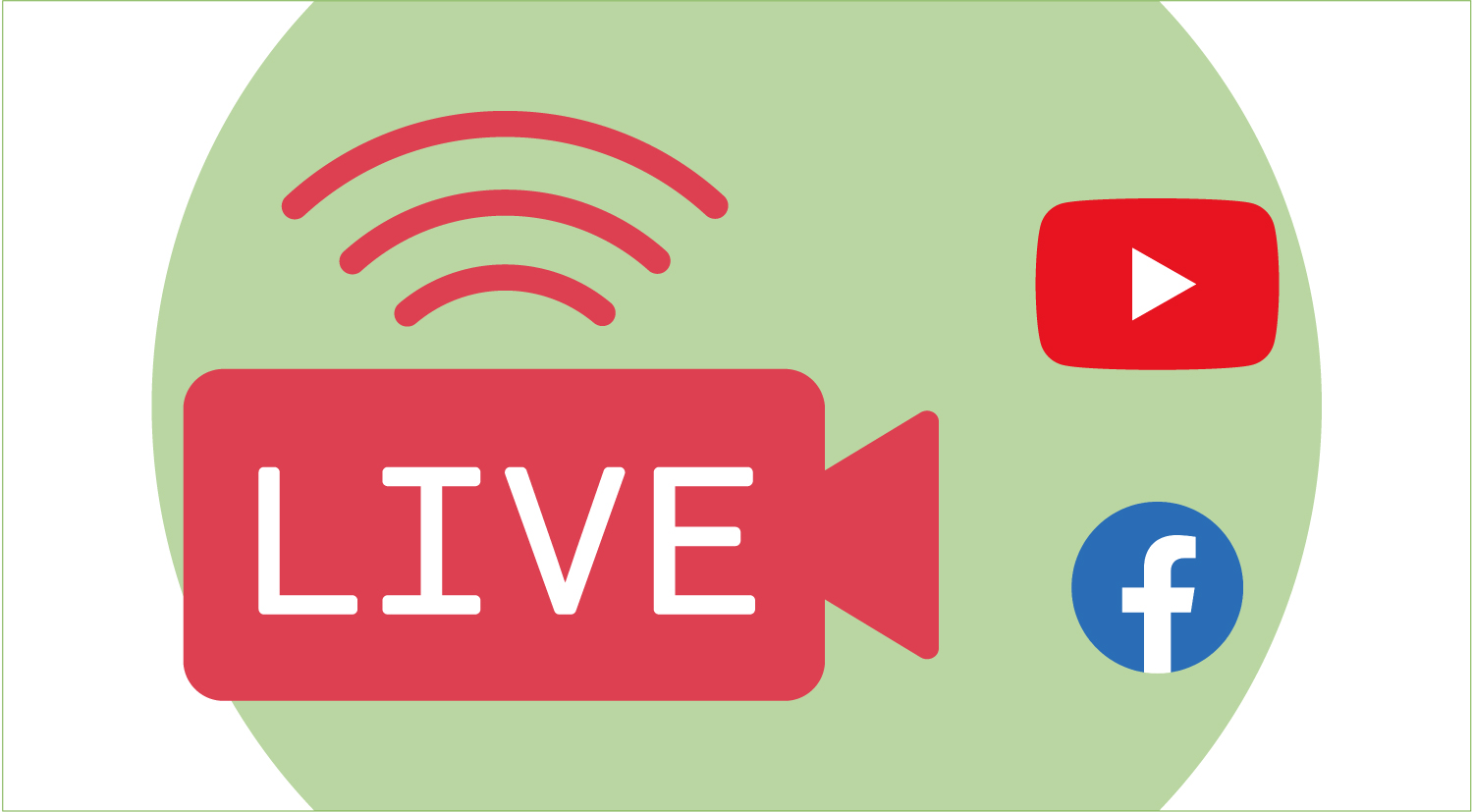 SSD
SSD storage function (MFR-31VP)
SSD can be installed. It enables recording/playing video and audio. Material supplied via SDI or over the network can be encoded and saved as files. Saved files can be decoded for output via SDI or over the network.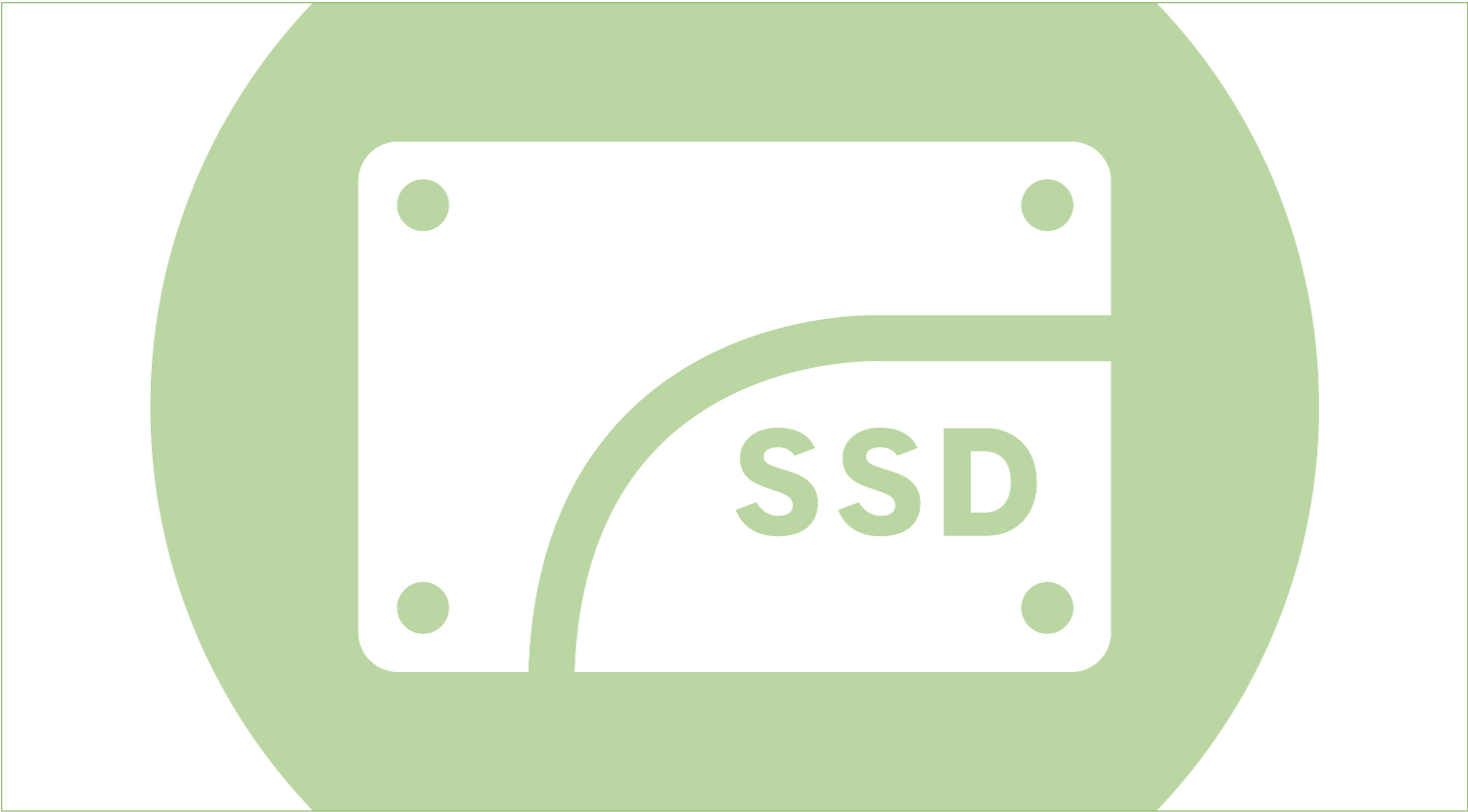 Multi viewer function
Multi viewer function is a standard feature of the built-in web server, which provides a web-based control interface. Add MFR-16MV cards for more sophisticated viewer capabilities such as dual output and clock display.

Browser-based multi viewer
Check source material easily through the built-in web server, saving outputs for other sources. For input channels (1–64) and video switcher function output, up to 64 windows can be displayed per screen.

MFR-16MV
Up to 2 outputs/16 split-windows are available with an optional MFR-16MV installed. Unlike conventional systems that require allocation of 1 output per window displayed by an external multi viewer, this functionality reduces multi viewer output allocation to 1 output per monitor. Because of the MFR-16V's ability to handle multiple outputs, all signals sent to those destinations can be monitored on the MFR-16MV. Up to 16 split-windows and 2 types of clock display are supported.