Re-defining Media Archive Workflows
A multi-format LTO-7 archiving recorder that also offers a generous 6 TB of internal storage for backup, the LTR-200HS7's ability to support broad video codecs accommodates many archiving needs. Useful in both archiving and exchange of recorded material or programs, highlights of this full-featured LTFs-based recorder unit include HD/SD-SDI input/output, broadcast-quality codecs, and MXF (OP-1a) wrapping and unwrapping. MXF or MOV files on LTO tape can also be used with NLE systems.
Converts SDI signals to MXF files*1 and records to LTO tape.
Archives material from connected VTRs.
Plays and provides SDI output for MXF les on LTO tape; can also export as MXF les.
Partial Retrieval: Extract needed segments of videofiles on LTO tape as separate files.
LTO Dubbing: Connect another LTR-200HS7 via Ethernet and control duplication from a computer running optional LTS-I-CP software.
1 MOV files when using Apple ProRes (with optional LTR-PRS)
Workflow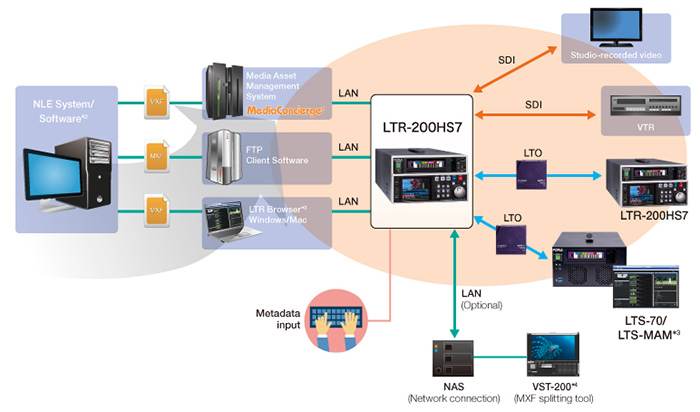 2 MXF file compatibility depends on settings and other devices used.
3 When LTR Browser or LTS-MAM is used, partial retrieval is available.
4 VST-200 can be used to enable MXF file splitting and metadata tagging of entire videotapes in LTR-200HS7.
LTR-NAS workflow
As material is recorded, export MXF files to a NAS device as they are created, using an optional LTR-NAS plug-in, and then back up the edited MXF files to LTO tape as needed.

Copy MXF files to a NAS device as they are recorded.
Check MXF playback and retrieve needed programs on a computer.
MXF files are checked for discontinuous timecodes, and splitting information is created automatically; each split le can be tagged with metadata.
Edit MXF files in an NLE system.
Back up MXF files to LTO tape in the LTR-200HS7, using menu operations*5.
5 Playback and partial retrieval of video les on a NAS device is not possible from LTR-200HS7.
Codecs and formats
Broad codec and format support includes MPEG-2 and AVC-Intra as well as Avid DNxHD®, and DVCPRO. For programs and other assets, the ability to offer this broad support is an advantage in applications that demand high-quality archiving.