All the switcher you will ever need
The HVS-390HS is the video switcher offering unparalleled broadcast reliability, performance and versatility with enhanced functionality and operability. Like the other HANABI series, it offers a full range of functionality as standard functions, including mixed HD/SD input, frame synchronizer, 2.5D and 3D wipe effects, DVEs, keyer with chroma key, DSKs, still stores, picture in picture and multi-viewers. In addition to them, the HVS-390HS offering an extreme choice in control surfaces; 6 control panels and 6AUX control panels are available. And more, featuring advanced AUX technology, the HVS-390HS has the capability to be a virtual 6 M/E unit. The unit can be perfect solution in all types of locations, including live events, sports, news studios, OB vans, editorial offices and presentation venues, making it the ideal tool for shaping the imaginative ideas of video creators.
Reasons to Buy
1
Extensive selection of control surfaces
With the HVS-390HS, up to 6 different control panel and 6 remote AUX control panel types are offered! From 19" rack mount 12-button panels (1M/E or 2M/E), all the way up to the operator-designed 2M/E 28-button panel, choose the size and type of control that best fits your environment. In addition to traditional control panels, simple remote panels that include Web browser control, as well as our range of AUX control panels are available. Up to 3 control panels and 10 AUX panels can be operated simultaneously, with all control choices easy to operate, for safe, reliable and repeatable LIVE production!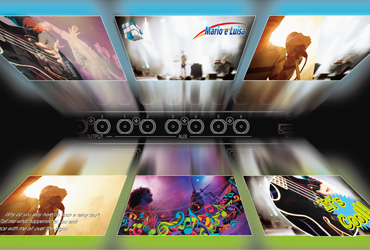 2
Advanced AUX- Virtual 6M/E
While the HVS-390HS offers full-powered primary Mix Effects (M/E), the HVS-390HS is also the first switcher system that employs Advanced AUX technology. Operators and technical staff will appreciate the capabilities of its virtual 6M/E switcher. With Advanced AUX technology any AUX bus can be used like never before… and AUX outputs can cut, mix, wipe, key and move graphics with DVEs.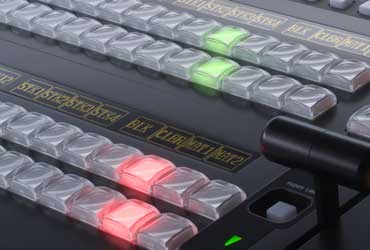 3
Powerful output ? Upgradeable to a 2.5M/E switcher
Enjoy the expandability of the HVS-390HS, from 1M/E to 2M/E or 2.5 M/E, eliminating the need to repurchase a main unit in order to upgrade your 1M/E switcher to 2 M/E. The switcher even operates as a 2.5M/E switcher with Advanced AUX plus technology. You can use AUX bus 7 and 8 as a half M/E (Program/Preset) bus, complete with mix transitions, and up to 4 DSKs (HVS-39EXTME required).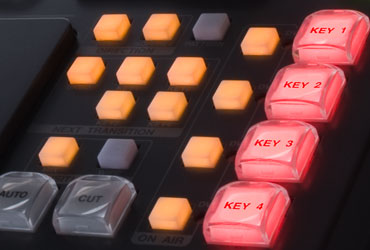 4
Resizing and effects with no limitation. A dozen DVE channels
The HVS-390HS has 8 keyers with 2.5D DVE and 4 channels of 3D DVE. Twelve channels of DVE mean you don't need to float DVEs, with enough effects to cover any production need. All 12 channels are included at no extra charge, while other suppliers may ask you to pay for additional DVEs or only provide 4. Advanced chroma keys also come standard. Unleash your creativity with the HVS-390HS!
5
More creative transitions. Animation playout (CG wipe)
The HVS-390HS can store and play out from an internal 4 channel media player. Why not free up your external clip player(s) and let the internal media player (free of charge) replay those animated bugs or integrate your animations into transition opens and closes? Your wipe transitions will really get noticed as the animation becomes part of your A/B wipe.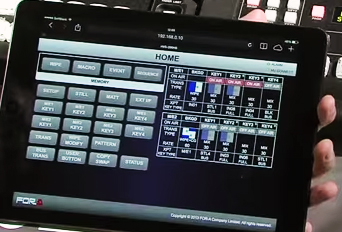 6
More operational flexibility. Control over Web browser
The ability to easily set up, adjust and operate the HVS-390HS via Web browser from PC, Mac or tablet device over Ethernet is included at no extra charge, and allows for easy recall and editing of macros, key-frame sequences and event memories. Web browser control also allows thumbnails of stills loaded to still stores to be displayed. This easy to use form of software control can be used at secondary operational positions, or as AUX control for TDs or directors.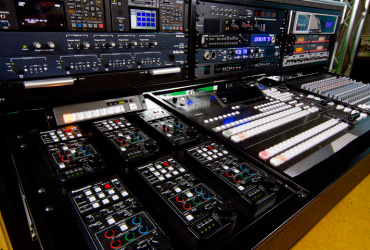 7
Perfect unit for system integration
When integrating FOR-A MFR series and Multi Viewer units, HVS-390HS tally information is automatically transmitted to and displayed in conjunction with MFR and MV units. MFR series units centrally manage and automatically distribute signal names to the HVS-390HS and MVs while the HVS-390HS controls MFR XPTs. Configuring systems with HVS, MFR and MV units together allow you to expand inputs.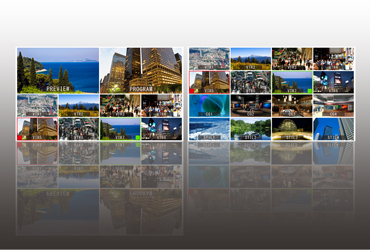 8
Dual Multi Viewer
Two independent multi-viewers are equipped, each capable of displaying 16 windows with safety area marker and audio level meter. Choose your layout pattern from quad-split, 10-split and 16-split.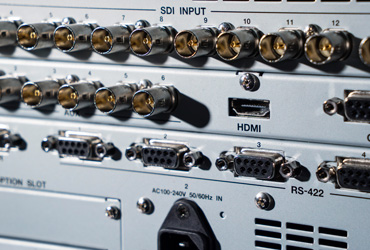 9
Asynchronous input capability. Frame synchronizer on all inputs
Frame synchronizers on all inputs and resizing engines on 4 inputs eliminate the need to prepare external devices for multiple signals to be input from different devices such as asynchronous cameras and PCs. Easily adjust video and chroma levels with the process amplifier. Frame synchronizers and process amplifiers on all inputs also simplify system configuration.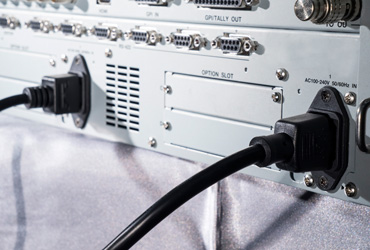 10
In case…. Redundant Power Supply (optional)
Fault tolerance should be an important factor when choosing your device. Only consumable items such as power units and cooling funs that meet strict quality control standards are employed. Redundant power supply and control panel units are available for system safety, with a hot-swappable PSU ensuring convenience and ease of operation.