The ultimate 4K solution for super-slow motion
The world's first* high-speed camera designed for super-slow-motion acquisition at 4K resolution up to 900 frames per second (fps). The FT-ONE incorporates the groundbreaking FT1-CMOS, a global shutter CMOS color sensor. The FT-ONE CMOS was developed by FOR-A to provide superior resolution and sensitivity. RAW material is recorded at high speed to the internal RAM memory, which holds nearly 10 seconds of 4K content shot at 900 fps. For convenience, material can then be transferred to optional internal SSD cartridges. Unleash your creativity with this unprecedented innovation in super-slow-motion video at 4K resolution.
According to internal research as of May 2012.
Award winnig:
Government Video magazine "2013 Government Video Salute Award"
Motion Picture and Television Engineering Society of Japan "MPTE Award 2013", "Technology Development Award 2012"
BIRTV 2013 China "BIRTV 2013 Award"
TV Technology Europe "STAR Award 2012"
TVB Europe "Best of IBC 2012"

Features
FT-ONE Highlight
Advanced FT1-CMOS sensor
Storage partitioning
Versatile trigger support
Global shutter system
Simultaneous 4K recording/playback
Others
FT-ONE-OPT
Model with Fiber-Optic Connectivity
HD capturing mode (FT-ONE-OPT)
Options
SSD Cartridge: FT-ONE2T/FT-ONE-1TL
Cartridge Docking Station: FT-1CDS
Remote Control Unit: FT-1RU/FT-1RUA
Remote Control Panel: FT-1RCP/FT-1RCP-J
DPX Converter: FT-1READ
Base Station: FT-1BS
4K Extraction System: ZE-ONE
FT-ONE-OPT Live Production Workflow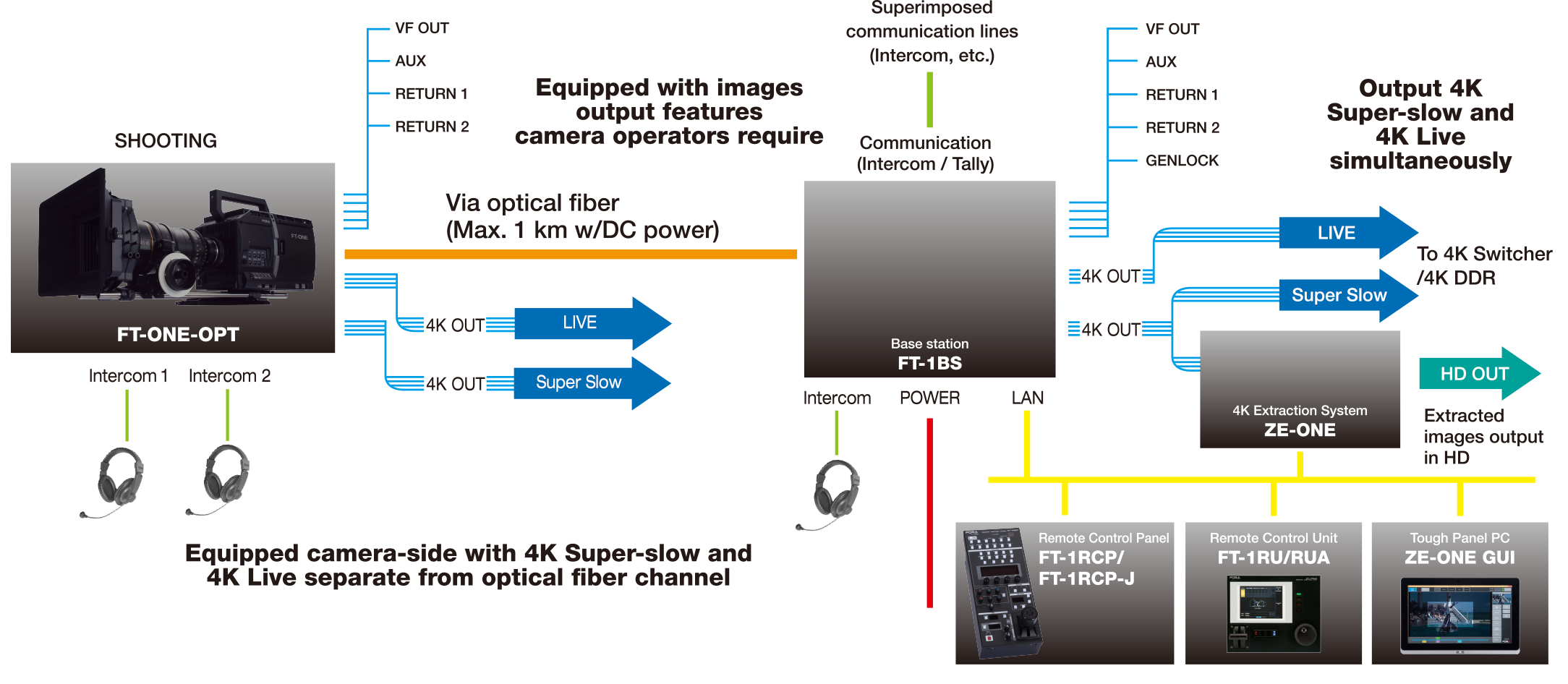 FT-ONE 4K Digital Intermediate Workflow