Software-based file player that easily integrates into video production workows and provides a convenient preview of MXF files. Play files as you are recording them, view time codes, and set in/out points.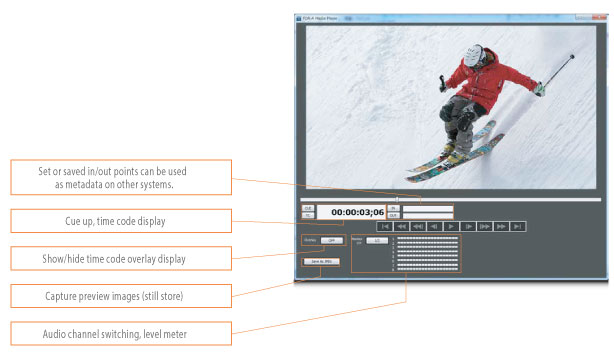 Supports AVC-Intra or MPEG-2 wrapped in MXF (OP-1a) files.
Plays files while they are being recorded.
5.1 ch audio to stereo downmixing
Convenient keyboard shortcuts
Can export via SDI with an additional FOR-A MBP video card. (optional)
An SDK that can be embedded into third party applications and control cue-up, play, pause, rewind, fast-forward, stop, and get time code is available.
System requirements and supported formats
Recommended system requirements Operating system: Windows® 7/8/8.1/10
File formats MXF (OP-1a)
Video formats
MXF (OP-1a): AVC-Intra, MPEG-2
Audio formats
PCM (AES, WAV)
- Windows is a registered trademark of Microsoft Corporation in the United States and other countries.
- AVC-Intra is a trademark of Panasonic Corporation.
- Other names are trademarks or registered trademarks of their respective owners.