Event
FOR-A's Scalable, Live Video Production Workflow, Including LED Wall, on Display at LDI
New Switcher, Signal Processors, and XR software with 6m x 4m Alfalite LED Wall Demonstrated as Integrated Solution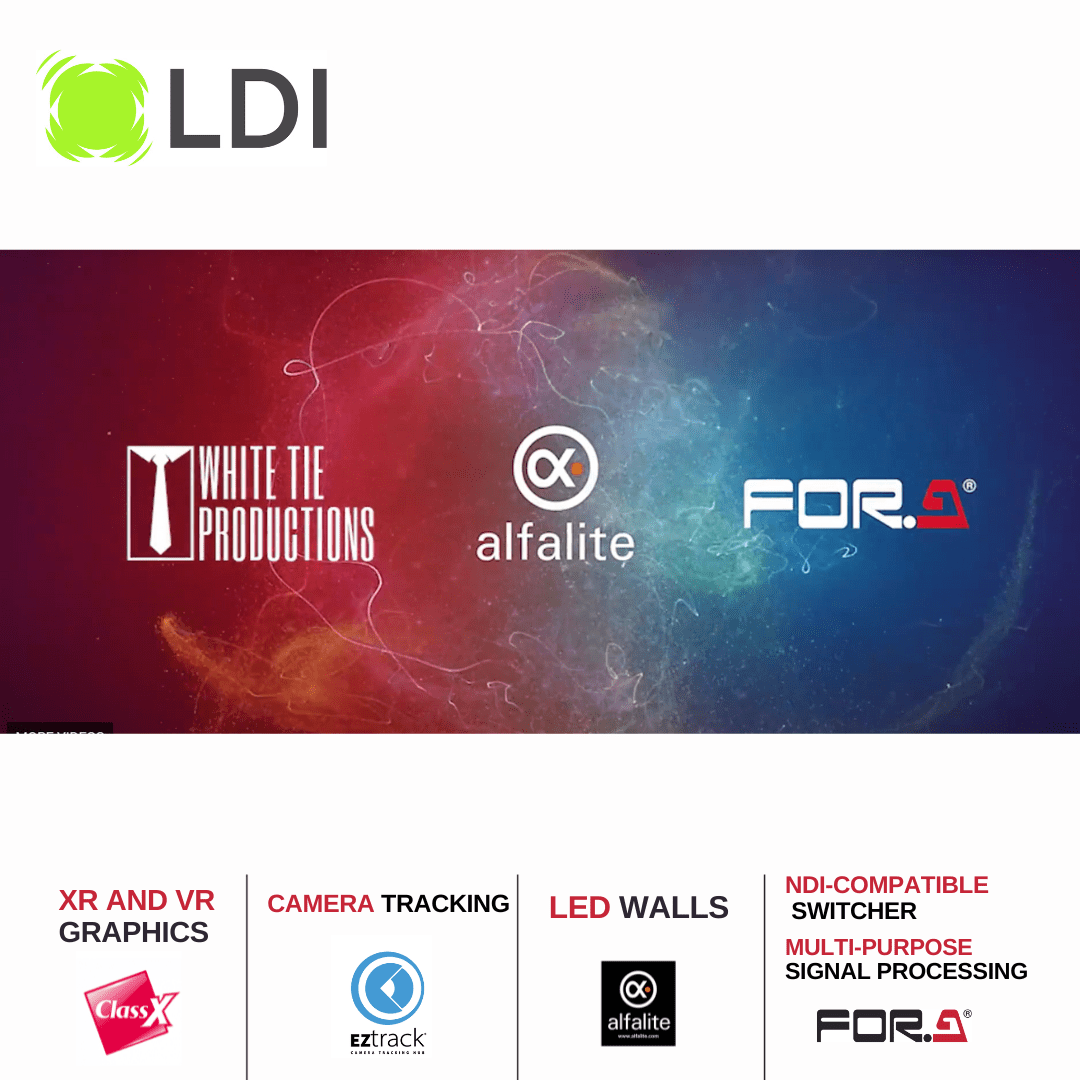 Cypress, CA, November 14, 2023 –  FOR-A Corporation of America makes it third appearance at LDI® this year, showcasing its live production workflow with the new HVS-190 NDI®-compatible video switcher, FA-9600 and FA-1616 multi-purpose signal processors, ClassX XR technology, EZTrack® camera tracking, and Alfalite Litepix LED wall. The FOR-A workflow provides an intuitive system for live video production that easily scales with the customer from 3G-SDI and HD signals up to single-cable 12G-SDI. And its best-of-breed approach ensures the system will possess the quality and ruggedness required for 24/7 live video production.
FOR-A will exhibit in booth #282 during LDI, running from December 3-5 in the Las Vegas Convention Center.
"LDI puts FOR-A's live video production ecosystem in front of a very different audience than other conferences on our calendar," said Satoshi Kanemura, President, FOR-A Americas. "It's been a very successful show for us in the past. Our live ecosystem is ideal for the rigors of live production, and we're looking forward to another great LDI next month."
FOR-A carries a full line that supports a 12G-SDI 4K workflow. The 12G-SDI transmission standard allows users to transmit a 4K signal through a single coax cable, while 3G-SDI systems require four cables. Single cable connectivity provides easier setup and fewer points of failure in the signal chain on location, as well as less weight for transport.
The Alfalite Litepix LED wall is also designed specifically for live production. Made entirely in Spain from conception to finish, the Alfalite Litepix 1.9mm pixel displays are integrated with the company's unique ORIM (Optical Injection Resin Module) technology, which offers viewers a 175-degree viewing angle with perfect precision and no color degradation. ORIM technology also contributes to the durability of the panels. They can withstand water and physical constraints that would scratch (or worse) inferior screens. With its Stack System (no tools required) design and front or rear panel access, the screens are a snap to install and maintain. They can be built into any size of LED wall or volume, creating virtual production and augmented reality spaces.
The color correction capability on FOR-A signal processors, the FA-9600 and FA-1616, makes it easy for engineers to "paint" outputs so LED walls and projection displays look uniform when positioned close together, especially because physical "knobs" give artists a more intuitive touch and feel for more precise and detailed color correction.
The Phoenix-based White Tie Productions will be on hand in the LDI booth showing its Alfalite panels working with the entire FOR-A workflow.
As part of a dynamic virtual studio and augmented reality offering, FOR-A includes the EZtrack® camera tracking system from oARo Studio. The EZtrack system features a small Hub unit to which users can interface multiple sensor configurations, from LED infrared sources to Mocap cameras and PTZ/mechanical heads. The sensor, placed on the top of each camera, is used as a reference to calculate the geometry. This allows for practically instant set-up with no need for long installation times. The EZTrack system communicates with the ClassX XR system, Elitium, enabling a fast, stable, and cost-effective way to set up virtual studios and augmented/mixed reality. The solution is ideal for green screen studios and can also be used with LED walls.
Shipping this month, the new, NDI®-compatible HVS-190 series fills out the live production ecosystem for FOR-A. The HVS-190 series supports NDI® high-bandwidth and NDI® HX input and output and marks the expansion of the popular HVS switcher series. It is a one M/E version of FOR-A's flagship HVS-490 video switcher and comes standard with 3G/HD-SDI and HDMI interfaces. The HVS-190 series features frame synchronization and processing amplification on all inputs and is available in two models.
LDI is the leading trade show for the live entertainment industry, hosting designers, manufacturers and technology pros for business and training sessions. To arrange an in-booth meeting with Satoshi Kanemura, please book a meeting here.
NDI® is a registered trademark of Vizrt.
About FOR-A
FOR-A, a worldwide, industry-leading manufacturer, offers a wide range of Broadcast and Production products with a focus on cutting-edge technologies including: HD, 4K and IP Products.
FOR-A continues to offer future-ready, cost effective, advanced technology solutions. Products include: Video Switchers, Routing Switchers, Multi Viewers, IP Encoders/Decoders, Multi-Channel Signal Processors, 8K/4K/HD Test Signal Generators, Color Correctors, Frame Synchronizers, File-Based Products, Character Generators, Video Servers and much more.
For a full range of HD and 4K Production and Processing solutions, as well as IP-Based Products, visit our web site at www.for-a.com
Press and Marketing Contact:
press@for-a.com
Any Questions? Please feel free to contact us.