News
FOR-A introduces new distribution partner in Malaysia with major seminar on 4K production
Tegas brings industry together with presentations from market leaders on practical 4K workflows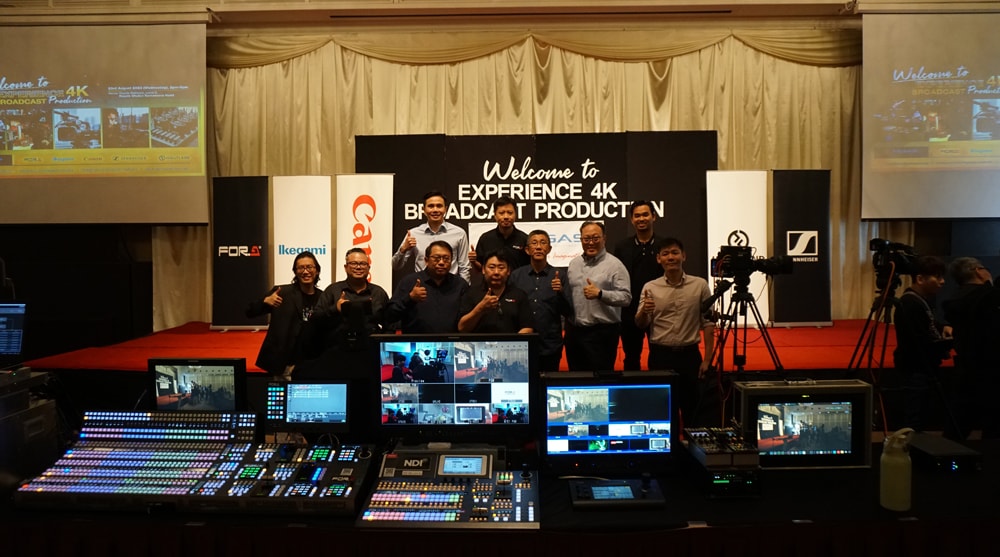 Singapore, October 17, 2023 –  FOR-A, a cutting-edge video broadcast technology company backed by more than 50 years' experience, has appointed Tegas Broadcast & Multimedia as its distributor in Malaysia. The new relationship was launched at a major seminar and presentation, featuring FOR-A's key products for 4K production and delivery.
Tegas, based in Selangor, just west of the Malaysian capital Kuala Lumpur, has more than 20 years' experience as a systems integrator as well as a supplier of professional products from many of the world's leading vendors. It specialises in broadcast studios and in technology for large events.
To mark FOR-A joining Tegas in Malaysia, together with the Canon 4K lenses and Ikegami 4K Cameras that make up the 4K systems, a seminar was presented, focusing on 4K workflows. At the heart of the demonstrations were the HVS-6000 large-scale production switcher and the HVS-490 compact switcher, both of which are ready for 4K Ultra HD over 12G-SDI, offering a practical and cost-effective transition to higher resolutions.
Also displayed were a range of FOR-A 4K capable productions, including multiviewers, routers, infrastructure products and the new SOAR-A, the revolutionary flexible, customisable IP platform.
The main presentations also used Ikegami cameras and Canon lenses plus two other key Tegas principals, to show a complete production system.
"Malaysia is well established in HD production and delivery, and naturally the major studios and broadcasters are looking towards 4K," said Henry Yee, executive director of Tegas Broadcast & Multimedia. "FOR-A has an excellent reputation as a manufacturer of highly reliable and easy-to-use products, which show a clear upgrade path towards 4K.
"We see FOR-A as a very important addition to our portfolio," Yee added. "The production switchers are powerful, flexible and intuitive to use. Bringing these and other products from the FOR-A family together with world-leading equipment like Canon lenses and Ikegami cameras means we can deliver the highest quality systems to our users, ready to face all future challenges."
FOR-A regional sales manager Robert Shen added "As a business we have always embraced partnerships where we can work with other vendors to really meet the customers' needs. Production system cameras are perfect partners for our switching and signal processing."
"Tegas recognises this and is actively working to show producers and broadcasters in the region how they can build a transition path, creating excellent HD today and ready for even better quality in the immediate future. We really look forward to achieving great things in the important Malaysian market in partnership with Tegas."
About FOR-A
FOR-A, a worldwide, industry-leading manufacturer, offers a wide range of Broadcast and Production products with a focus on cutting-edge technologies including: HD, 4K and IP Products.
FOR-A continues to offer future-ready, cost effective, advanced technology solutions. Products include: Video Switchers, Routing Switchers, Multi Viewers, IP Encoders/Decoders, Multi-Channel Signal Processors, 8K/4K/HD Test Signal Generators, Color Correctors, Frame Synchronizers, File-Based Products, Character Generators, Video Servers and much more.
For a full range of HD and 4K Production and Processing solutions, as well as IP-Based Products, visit our web site at www.for-a.com
Press and Marketing Contact:
press@for-a.com
Any Questions? Please feel free to contact us.