Customer Stories
Infocomm 2023: Alfalite and FOR-A Announce First Sale in U.S. for Three LED Video Walls to The Church at Rock Creek
336 Modularpix Pro LED Panels to be Installed for Live IMAG and On-Stage Backdrop; FOR-A Router and Switcher Form Backbone of Video Infrastructure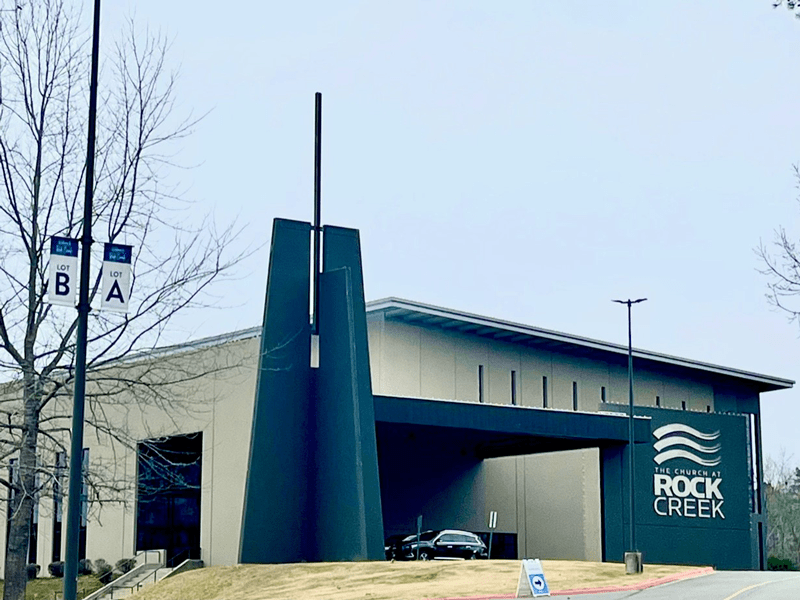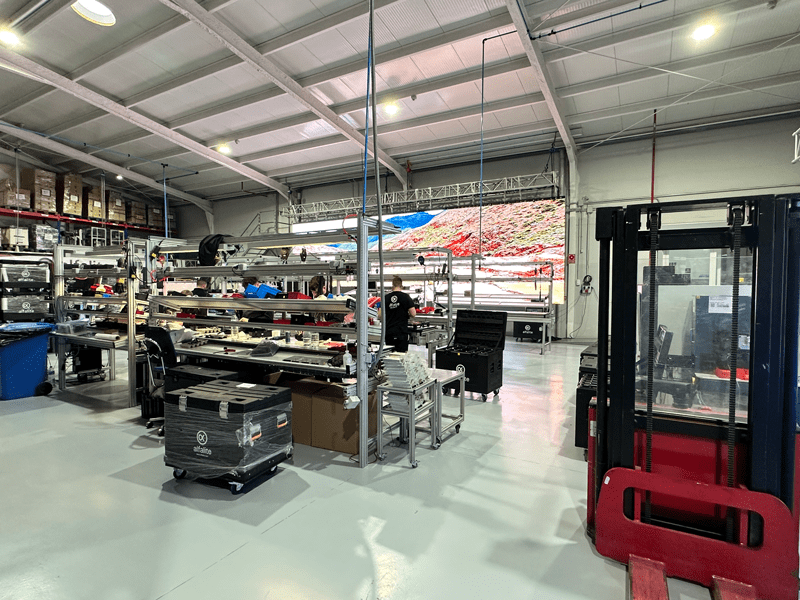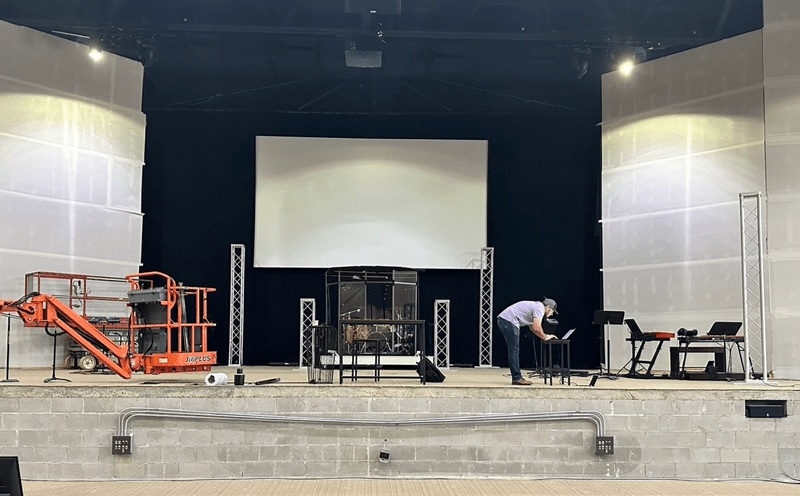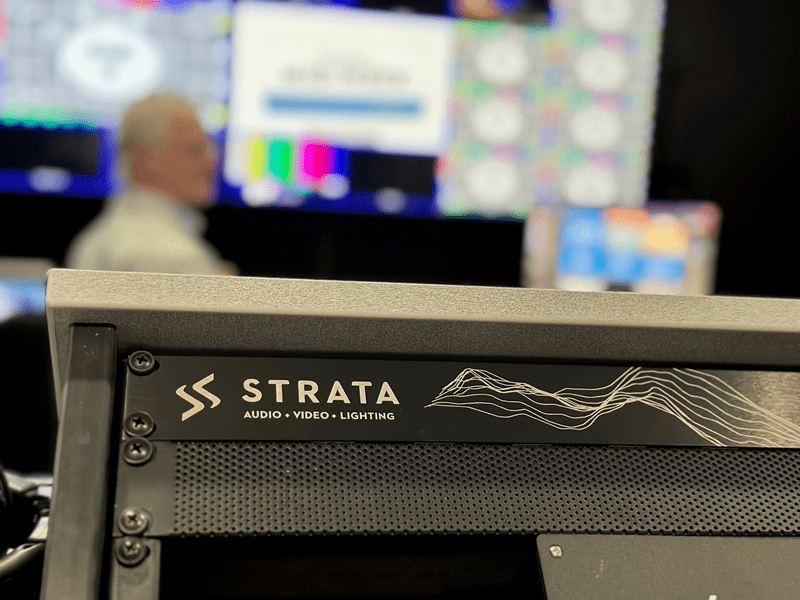 Cypress CA, June 13, 2023 –  After launching a strategic partnership in April with Spanish LED manufacturer Alfalite, FOR-A announced its first sale of three walls of Alfalite Modularpix Pro screens to The Church at Rock Creek in Little Rock, AK. This sale marks Alfalite's first order in the U.S. as well as the first sale for the FOR-A/Alfalite alliance. FOR-A's HVS-490 video switcher and MFR-6000R routing switcher form the backbone of the church's video infrastructure. Audio/video/lighting (AVL) consulting and design firm Strata AVL is leading the design and build for The Church at Rock Creek and recommended the Alfalite displays.
The Alfalite walls are expected to be installed in August and will conclude the second phase of this project, with the switcher and router installation comprising the first. Three identical video walls, each with 112 panels, will be truss-mounted on stage of the 2500-seat sanctuary. Two of the walls will provide IMAG (Image Magnification) and the third will be a motorized wall serving as a moveable backdrop for the pastor. The walls will feature live video, graphics, and text to elevate the experience for audience members.
While The Church at Rock Creek has been streaming for a while - to its website, the Church Online platform, Facebook, youtube channels and live video distribution into breakout rooms and the church's lobby – Alfred Burgess, Client Relationship Specialist at Strata AVL, describes the video equipment they were using as 'bare bones.' "You've got to have good video quality first before you capture anything," said Burgess. "The Alfalite screens are phenomenal technology, but they can't transform poor video quality into something truly captivating and cinematic."
Strata worked with FOR-A to bring in the best product combination for the church's needs. "The ease of use of our HVS-490 switcher and MFR-6000R router combined with their durability and video quality are a perfect match for the superior imagery and performance of the Alfalite LED walls," said Satoshi Kanemura, President, FOR-A Americas.
"The business collaboration with FOR-A has far surpassed our expectations at this early stage in our partnership," said Juan Vega Diaz, International Business Development Manager, Alfalite. "We share a common vision of company priorities, including intuitive operation, robust design, and premium quality. FOR-A's cutting-edge technology maximizes the output of our LED video walls. It's a true win/win partnership, particularly for potential customers."
David Roche, co-owner, STRATA AVL, echoes Vega Diaz' sentiment on the shared priorities of Alfalite and FOR-A: "One of Strata's goals in every project is to offer our clients the greatest value for the dollars they have available. That means we look for products that offer great capabilities as well as high quality. FOR-A and Alfalite have that same philosophy. We saw firsthand how their design and manufacturing capabilities create very high-quality LED panels when we visited Alfalite's facility in Huelva, Spain. Their Modularpix Pro panels are a perfect fit for our friends at The Church at Rock Creek and we are happy to recommend them."
According to Adam Daniul, FOR-A Americas Vice President of Sales, Alfalite's attention to detail goes far beyond the typical manufacturing process. "When we were touring the factory, they splashed water on the panels, beat away at it, and applied chemicals to it - without sustaining any damage. LED panels can get pretty banged while they're being installed. Preventing that damage is an amazing advantage. Then there's ORIM, which makes possible the incredible, 175-degree viewing angle with perfect precision and no color degradation."
FOR-A will showcase the 1.9 pitch Modularpix Pro ORIM screens during its participation at InfoComm 2023 (Booth #2023), June 14-16, at the Orange County Convention Center in Orlando. To arrange an in-booth meeting with Satoshi Kanemura during InfoComm, please book a meeting here.
About Alfalite
Alfalite is a leading European LED screen manufacturer based in Spain, with facilities that carry out LED screen design, manufacturing and certification. Alfalite manufactures screens using the best materials and components on the market, which allows them to meet the highest standards and the most demanding customer specifications in critical environments. www.alfalite.com
About FOR-A
FOR-A, a worldwide, industry-leading manufacturer, offers a wide range of Broadcast and Production products with a focus on cutting-edge technologies including: HD, 4K and IP Products.
FOR-A continues to offer future-ready, cost effective, advanced technology solutions. Products include: Video Switchers, Routing Switchers, Multi Viewers, Full 4K High-Speed Cameras, IP Encoders/Decoders, Multi-Channel Signal Processors, 8K/4K/HD Test Signal Generators, Color Correctors, Frame Synchronizers, File-Based Products, Character Generators, Video Servers and much more.
For a full range of HD and 4K Production and Processing solutions, as well as IP-Based Products, visit our web site at www.for-a.com
Press and Marketing Contact:
press@for-a.com
Any Questions? Please feel free to contact us.