Customer Stories
South Bend Cubs' Create Video Quality for In-Stadium and Broadcast Coverage that Rivals Major Leagues with New FOR-A Switcher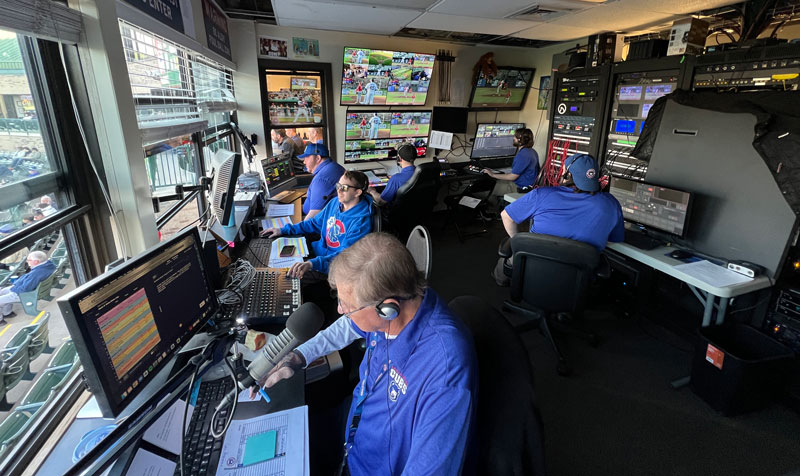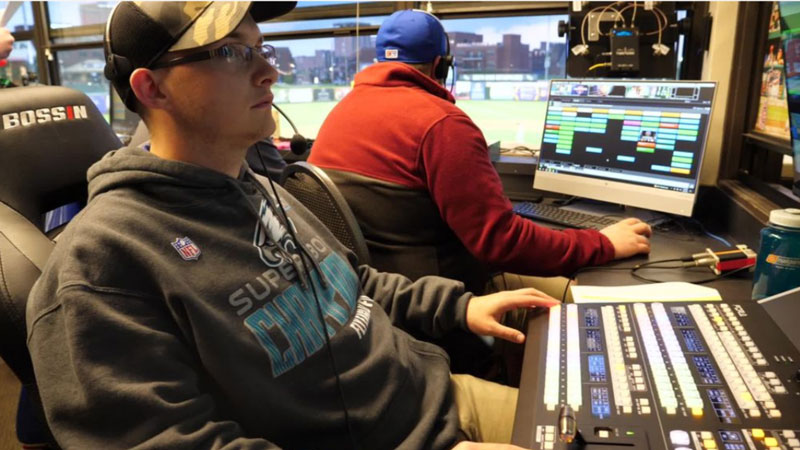 Cypress CA, June 6, 2023 –  The South Bend Cubs, a Minor League affiliate of the Chicago Cubs, needed video quality for their live broadcasts to rival that of the Major Leagues. While every South Bend game is streamed to MiLB.TV, several games are also broadcast on local TV and the Chicago Cubs' regional network - Marquee Sports Network. To give the action the professional look it deserves, the team's media team turned to FOR-A HVS-490 video switcher. The HVS-490 was recommended by the team's A/V support company, TPC Technologies, who use a variety of FOR-A switchers in the company's flypacks.
"We can go up to six M/Es with the HVS-490. Combine that with its support of NDI®, PTZ cameras, overall ease of use, and it's incredibly versatile," said Chris Hagstrom-Jones, Assistant General Manager – Marketing & Media, South Bend Cubs. "It gives us all the flexibility, power, and creativity of the big-name switchers at a much more affordable price. We integrate wipes and effects to make our broadcast look just like the Chicago Cubs games on Marquee. We've just scratched the surface with all the functions of the 490. As our stadium expands, we'll utilize more M/Es and outputs for the various in-house feeds and monitors across the park."
While the switcher is used mainly for producing Minor League Baseball game coverage, it also handles the club's in-house video board show. This makes its role even more critical to the South Bend Cubs organization. "We compared the HVS-490 against several very high-end switchers before making our decision," said Hagstrom-Jones. "Some were priced over what our budget allowed, others we've had negative experiences with, and some didn't provide the performance we required. The HVS-490 feels like a big-time switcher as opposed to an at-home web streaming device."
Hagstrom-Jones reports that based on FOR-A's level of support and the switcher's capabilities, they are considering purchasing additional FOR-A technology in the near future.
"We're thrilled that our production switcher was selected by the South Bend Cubs," said Satoshi Kanemura, FOR-A Americas' President. "They needed a solution with the performance required for high-end broadcast and live event video production that was also easy to use and cost effective. With all the new NDI® options coming onboard, the HVS-490 will grow with them, no matter what type of production they look to do."
"The organization had very clear goals for both their broadcast and in-stadium productions," explained Adam Daniul, Vice President of Sales, FOR-A Americas. "Working with them was a pleasure, and we're pleased to provide a solution that fits their needs now, with significant flexibility for the future. We foresee a long and mutually beneficial partnership with the South Bend Cubs."
The HVS-490 switcher offers flexible expansion, opening the door to more affordable 4K production. Exclusive MELite™ technology extends the switcher's 2 M/Es to offer 6 M/E performance. Assign FLEXaKEY™ or feature rich 2.5D DVE for compositing with up to 12 keyers. The HVS-490 supports NDI® using the optional HVS-NIF card. The HVS-NIF serves as a video/audio transceiver and creates a system capable of handling IP and baseband signals.
Watch HVS-490 video switcher in action for the South Bend Cubs:


See a close-up look at switching with the FOR-A HVS-490 in the production control room of the South Bend cubs:

NDI® is a registered trademark of Vizrt Group.
About FOR-A
FOR-A, a worldwide, industry-leading manufacturer, offers a wide range of Broadcast and Production products with a focus on cutting-edge technologies including: HD, 4K and IP Products.
FOR-A continues to offer future-ready, cost effective, advanced technology solutions. Products include: Video Switchers, Routing Switchers, Multi Viewers, Full 4K High-Speed Cameras, IP Encoders/Decoders, Multi-Channel Signal Processors, 8K/4K/HD Test Signal Generators, Color Correctors, Frame Synchronizers, File-Based Products, Character Generators, Video Servers and much more.
For a full range of HD and 4K Production and Processing solutions, as well as IP-Based Products, visit our web site at www.for-a.com
Press and Marketing Contact:
press@for-a.com
Any Questions? Please feel free to contact us.