---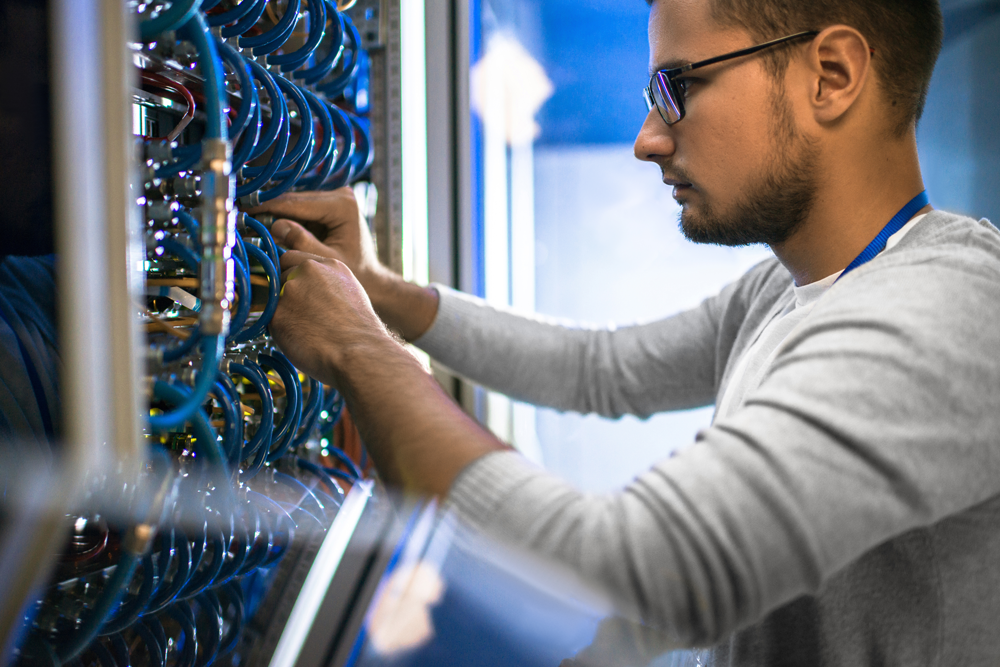 Introduced in 2015, the 12G-SDI serial digital interface (SDI) standard builds on a legacy of open video transmission standards, which stretches back more than 25 years and is supported by the vast majority of manufacturers serving the professional video space. While there are several 4K and UHD resolution standards, 12G-SDI's 11.88 Gbps bit rate supports 2160p60 (3,840 vertical lines and 2,160 horizontal lines) 4K video.
Broadcasters and other content creators have accepted the familiar, reliable, and backward compatible 12G-SDI transmission standard. However, it has been a challenging standard for many manufacturers, because it requires a high-speed printed circuit board (PCB) layout that can meet the SMPTE-defined data rate requirements.
12G-SDI technology can transmit a 4K signal through a single cable
With eight times the bandwidth of HD-SDI, 12G-SDI technology can transmit a 4K signal through a single cable. A 12G-SDI coax is still 75 ohm, but it has better shielding and less dropoff than a standard coax built for 3G-SDI signals. Several manufacturers produce a variety of cables designed to manage a 12G-SDI signal reliably for more than 100 yards, though distances can be increased significantly over optical fiber.
Advantages of single cable connectivity
Single cable connectivity is one of several advantages that 12G-SDI provides for broadcast operations that produce 4K programming. With one cable instead of four, there are fewer points of failure in the signal chain. Plus, for outside broadcast (OB) vehicles in particular, fewer cables mean less weight and potentially smaller routers and other components, which can translate to improved space and equipment flexibility.
The 12G-SDI signal delivers uncompressed audio and video, and supports all ancillary data, with low latency and no copyright protection. Like previous SDI standards before it, 12G-SDI is backward compatible, so upgrade paths are less complicated (and less expensive). In fact, Quad Link 12G-SDI provides an upgrade path to 8K for broadcasters.
Want to learn if 12G-SDI is the right standard for your facility? Schedule your FOR-A 12G-SDI demo here. Part 2 will explore 4K transmission alternatives, including IP-based solutions and HDMI.
Popular SDI Interfaces
| Standard | Bit Rate | Video Format | SMPTE Standard(Year) |
| --- | --- | --- | --- |
| SD-SDI | 270 Mbps | 480i | 259M (1994) |
| HD-SDI | 1.483 Gbps | 1080i/720p | 292M (1998) |
| 3G-SDI | 2.97 Gbps | 1080p | 424M (2006) |
| 12G-SDI | 11.88 Gbps | 2160p | ST-2082 (2015) |
FOR-A 12G-SDI PRODUCTS (AUGUST 2021)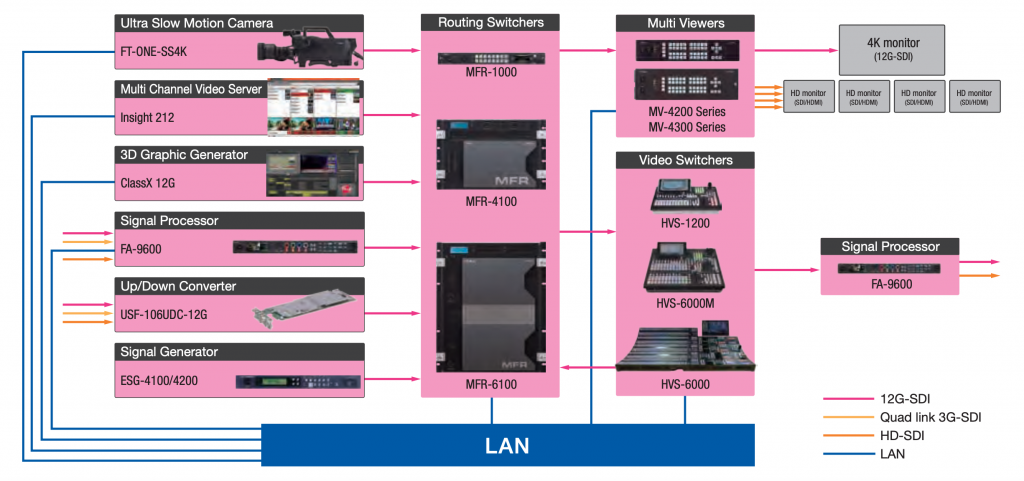 Learn More