File-based Total Solution (Media Management System)


MediaConcierge

Total solutions for a file-based era
MediaConcierge™ is the collective name for FOR-A's media management systems that have been developed for content management services in the video industry. In addition to common MPEG1/2/4 and H.264 compression standards, MediaConcierge™ also supports tapeless media files such as DVCPRO and XDCAM, and computer media files such as Windows Media Video and Quick Time, making it compatible with a wide range of manufacturers and various file formats. This is the most significant feature of the FOR-A system. Of course, our system also supports regular HD/SD-SDI video signals. Support for diverse file formats is useless unless the data can also be output in diverse file formats. MediaConcierge™ is a powerful, comprehensive system that not only performs the unified management of content, but is also packaged with the file conversion functions that are required for subsequent processes. Today, a single content item can offer numerous business opportunities through various channels, such as television broadcasting, internet delivery and packaged media. To help you make the most of these opportunities, MediaConcierge™ offers you support in constructing a repurposing (secondary usage) system that converts files of a single piece of source data to the optimum format for various different operational configurations.
Filebased Workflow of MediaConceirge™

INGEST
EDIT
MANAGEMENT
PLAYOUT
ARCHIVE
REPURPOSE
INGEST
MBP-100SX/110SXA/100PD: Base band converters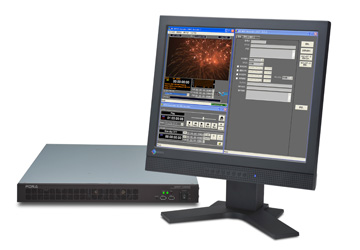 Base band converters that convert HD/SD-SDI signals to MXF files in real-time
TS line recording
Supports management and usage of not only base band signals, but also files with recorded TS streaming data, such as H.264 and MPEG-2
MCI-100: Ingest software
Additional software that implements high-level ingest work
VTR control functions for professional use: Sets in/out points; controls a professional VTR via RS-422; encodes video
Stand-by encoding function: Allows you to preset encoding starting times from ancillary time code information
Reserved recording function: Automatically starts encoding by setting the encoding starting and ending days and times
Follow-up copy function: Follow up copy to an external storage and the like is possible while encoding. Implements stable encoding that is unaffected by the external storage and LAN speed
Remote control function (optional): Controls remotely from another PC using an HTTP protocol
Meta data registration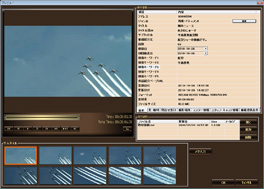 In addition to conventional MediaConcierge features, such as basic meta data registration, and the addition of unique IDs, the following features are also included
Links with hosts such as support systems
Additional meta data, search keyword: Addition of use period and restrictions, and comments
Time axis meta data: Sets meta data not only for the entire file, but also for cuts (scenes) within your material
Quality Control
Overall management of QC work in each process, including QC in ingesting and QC of send-complete packets
Encoding system equipped with comparison detection function: Compares the encoder input video and audio and the content of the file output to automatically detect problems while encoding
EDIT
Links with non-linear editing systems
Resolves the problem of lost association to meta data added before editing on a non-linear editing system
Associates with meta data for post-editing files using the MC File Linker
MANAGEMENT
Workflow Manager: Workflow management software
General-use server software for uniform management and controlling workflow processes of file bases such as copying and moving of files between each island, registration of meta data, and generation of proxies
Adding and changing work flows is simplified, and enabling the construction of flexible and highly expandable systems
Management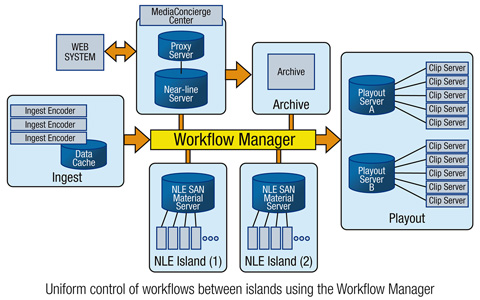 Task management
Status check
Task priority change
Task stop/delete
etc...
Task
Create proxy
Transcode
File transfer
File QC, processing
Chasing edit
etc...
MediaConcierge Center: Material management software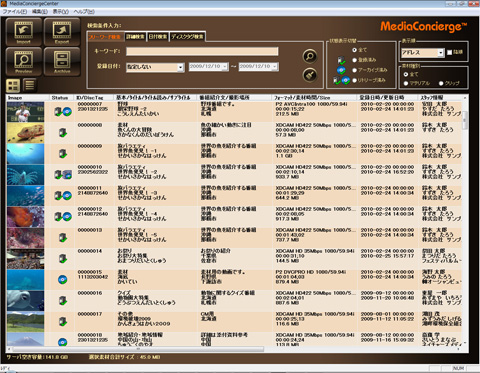 Uses its core software, MediaConcierge Center, to enable uniform management of all files without depending on special formats
Stores files as originals
Enables high degree of freedom to search with abundant meta data
Search results enable video checks using thumbnails, meta data or proxy data
File attachment function: Enables filing of all files related to materials, such as drafts created in MS Word, spread-sheet data created in Excel, or PDF files, as file attachments, such as those in email software
LTR-100HS/120HS linking function: Enables partial retrieval of materials files in LTO taps, while viewing the proxy images in MediaConcierge
Material master file management: Enables archiving along with project files to the LTO, by managing material files consolidated using non-linear editing software
PLAYOUT
MBP-100SX/110SXA/100PD: Clip server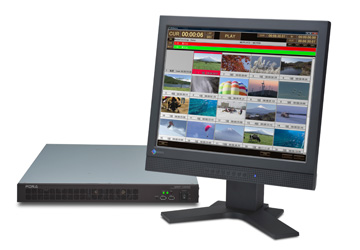 Converter that can also be used as a stand-alone sending server, by installing SSD. Functions as a sending client by combining with video server
MBP-100MP: Multi-format player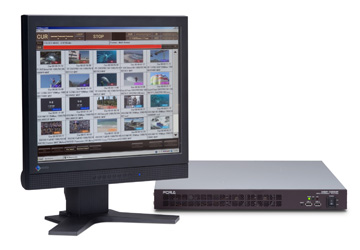 Multi-format player that can base-band output all files
Supports the main file formats including P2 (AVC-Intra, DVCPRO HD), XDCAM HD/HD422, and MXF files like GF
ARCHIVE
LTR-100HS/120HS: LTO-5 video archive recorder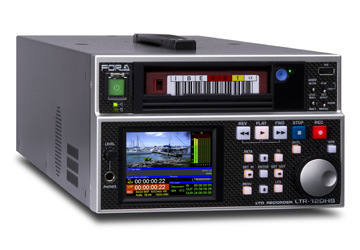 Archive recorder that adopts LTO-5, which is a high-capacity storage media
Includes many useful features such as ingest from base band, proxy generation, and base-band output of saved files
Supports file input and output. The partial retrieve function allows retrieval of only the necessary portions from the LTO tape for reuse
LTR Browser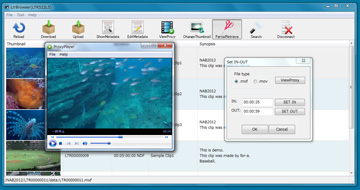 Remote software for accessing from the PC, the LTO-5 mounted on LTR-100HS/120HS
Enables file input and output, meta data granting and revisions, and proxy file downloading, and partial retrieve instructions
REPURPOSE
Prism system: Real-time network distribution system for on-air video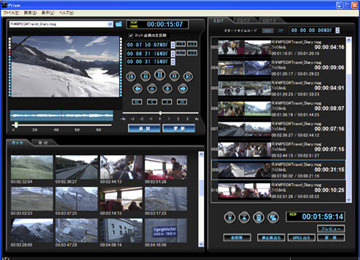 A network distribution system that is perfect for re-use of video content, with a basic composition of an encoder, simple editing and trans-corder
Enables distribution over the Internet, by implementing follow-up editing while recording on-air video. The easy-to-learn system reduces operating costs.
Materials