The ultimate 4K solution for super-slow motion
The world's first* high-speed camera designed for super-slow-motion acquisition at 4K resolution up to 900 frames per second (fps). The FT-ONE incorporates the groundbreaking FT1-CMOS, a global shutter CMOS color sensor. The FT-ONE CMOS was developed by FOR-A to provide superior resolution and sensitivity. RAW material is recorded at high speed to the internal RAM memory, which holds nearly 10 seconds of 4K content shot at 900 fps. For convenience, material can then be transferred to optional internal SSD cartridges. Unleash your creativity with this unprecedented innovation in super-slow-motion video at 4K resolution.
*According to internal research as of May 2012.
Advanced FT1-CMOS sensor
Creating a high-speed 4K camera with the necessary capabilities required a new kind of sensor. Drawing on our expertise in high speed cameras, we devised a CMOS sensor equivalent in size to super 35mm. The FT1-CMOS is a sensor with outstanding sensitivity, responsiveness, resolution and transfer speed. It is a unique sensor for a revolutionary camera.
| | | | |
| --- | --- | --- | --- |
| | | | |
| Groundbreaking FT1-CMOS sensor | | Sensor Comparison | |
Super-slow motion in 4K at 900 fps
The advanced FT1-CMOS sensor enables high-speed recording at up to 900 fps. Powerful image processing is needed for the massive 4K image data from the sensor. Material is stored in internal memory in real time. The frame rate is also adjustable (starting at base level of 60 fps*) The FT-ONE maintains a striking 4K resolution at all frame rates.
*50 fps supported for 50 Hz SDI output (1080/50i)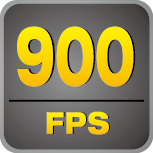 11-stop dynamic range
The 12-bit FT1-CMOS sensor affords a high dynamic range across 11 stops. What's more, a sensitivity of ISO 640 ensures stable, extremely low noise results.。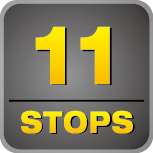 Fast recording, generous SSD memory capacity
RAW material is recorded at high speed to internal RAM. Shoot in 4K resolution for up to 9.4 seconds at 900 fps. Slower frame rates allow for longer record capacity. For convenience, this material can be transferred to optional SSD cartridges, each of which can hold 84 seconds of material. The camera accommodates two cartridges, enabling a total of nearly 3 minutes of 4K acquisition. Switch the hot-swappable cartridges as needed in production.
SSD compartment
(on the left side of the camera)

SSD Cartridge (FT-ONE2T)
Storage partitioning
Internal memory can be used as a single space or partitioned into 2 to 16 spaces for simultaneous recording or playback. In continuous recording, material can be left intact before recording the next segment. Partitioning enables you to record new scenes while playing back recorded scenes already stored in any partition.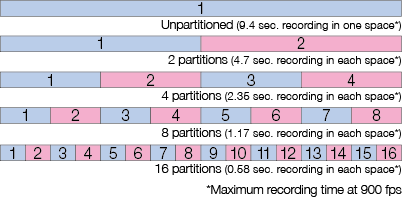 Simultaneous 4K recording/playback
Simultaneous 4K recording and playback are output using four 1080p HD-SDI signals. In addition, two downconverted HD-SDI outputs allow you to monitor the signal on a preview monitor and a viewfinder with an on-screen information display. Any segment during 4K recording can be extracted for viewing in HD-SDI (1080i). This dual-channel output can help you avoid missing crucial moments by continuing to record the next segment even during slow-motion playback from the camera.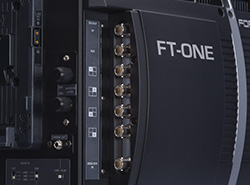 SDI outputs (on the right, in back of the camera)
Versatile trigger support
Constant image capture begins as soon as the FT-ONE is turned on, pressing a trigger starts recording to internal memory. The trigger can be set to record from the start, center or end of the event to be captured. Choose the optimal recording trigger for the subject or scene. With pre-roll function, playback starts from the specified position, keeping playback focused on required segments.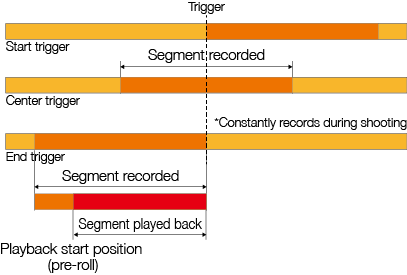 Global shutter system
The high-speed global shutter system counteracts rolling shutter artifacts that might otherwise occur with fast motion. Capture instantaneous subject movement in crisp detail at 4K resolution.
12-axis color correction
When using video output, color correction along 12 axes surpasses ordinary trichromatic correction. By adjusting hue and saturation for individual colors of the 12 axes, you can isolate specific colors for correction. Our 12-axis color correction allows for an unprecedented ability to match the output of traditional cameras. (This adjustment is restricted to video output and does not affect the RAW material in the camera memory.)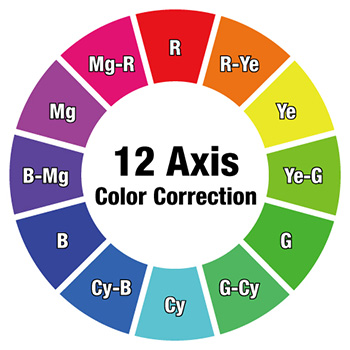 Genlock input
Genlock functionality was designed with broadcast scenarios in mind. The FT-ONE was designed to fit seamlessly into an existing mobile or studio system.
Remote control unit
FT-1RU
Take advantage of an optional remote control to streamline the camera setup. The FT-1RU includes dedicated recording and playback buttons as well as a rotary encoder and touchpanel for a range of settings. The FT-1RU provides efficient camera setup and more convenient recording or playback.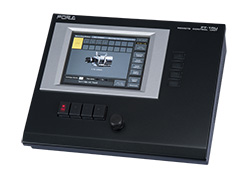 FT-1RCP
The FT-1RCP is a remote control unit for easy camera control of the FT-ONE. The FT-1RCP can adjust scenes recorded by FT-ONE from remote locations on a real-time basis. Iris, pedestal and gain control are already assigend to buttons for intutuive and smooth operation. Used with FT-1RU, adjustment of camera parameters and record/playback can be controlled separetely.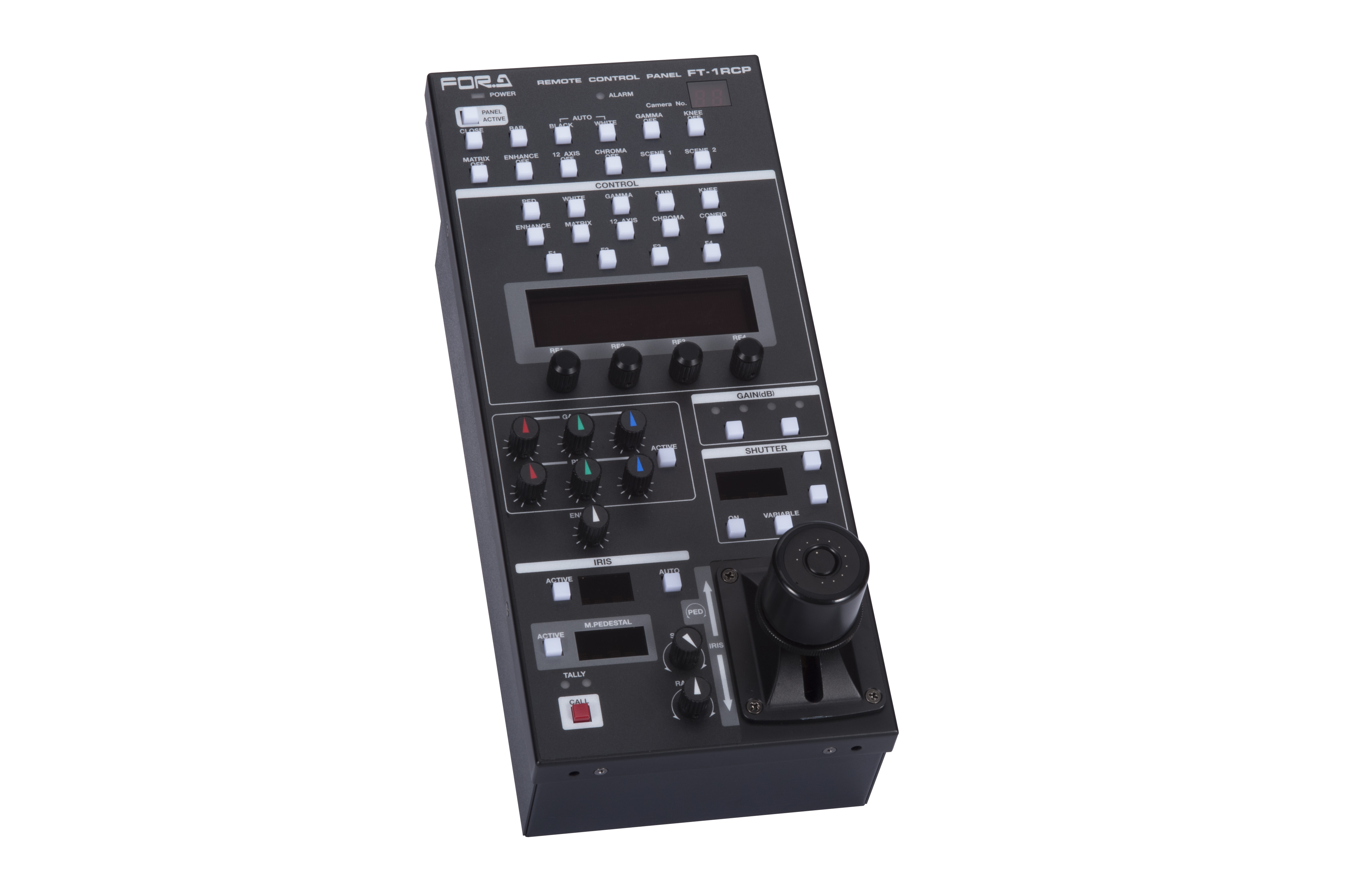 Dual synced video capture
The FT-ONE supports synced shooting with two cameras. Synced camera mode is perfect for recording or playback when covering the same subject with both cameras, or using two cameras in a 3D rig. In high-speed acquisition, the slightest discrepancy in timing is very noticeable, which makes synced shooting and playback a key feature.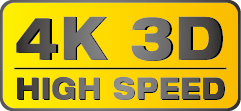 RAW conversion
The FT-1READ is a RAW to DPX converter for the FT-ONE. 12-bit RAW material is recorded to internal memory and SSD cartridges in FT-ONE. Before color grading or editing, this RAW data (not video output) must be converted to a common file format. For conversion, take advantage of the FT-1READ DPX converter, developed by FOR-A as an FT-ONE option. Conversion produces DPX files with your preferred parameters.

| | | | |
| --- | --- | --- | --- |
| | | | |
| FT-1READ | | FT-1READ screen | |